QWO has caught on as the next innovation in aesthetic injectable products: it reduces stubborn cellulite dimples through a clinically proven method. Today we want to share the five BEST things about QWO for cellulite in Bellevue!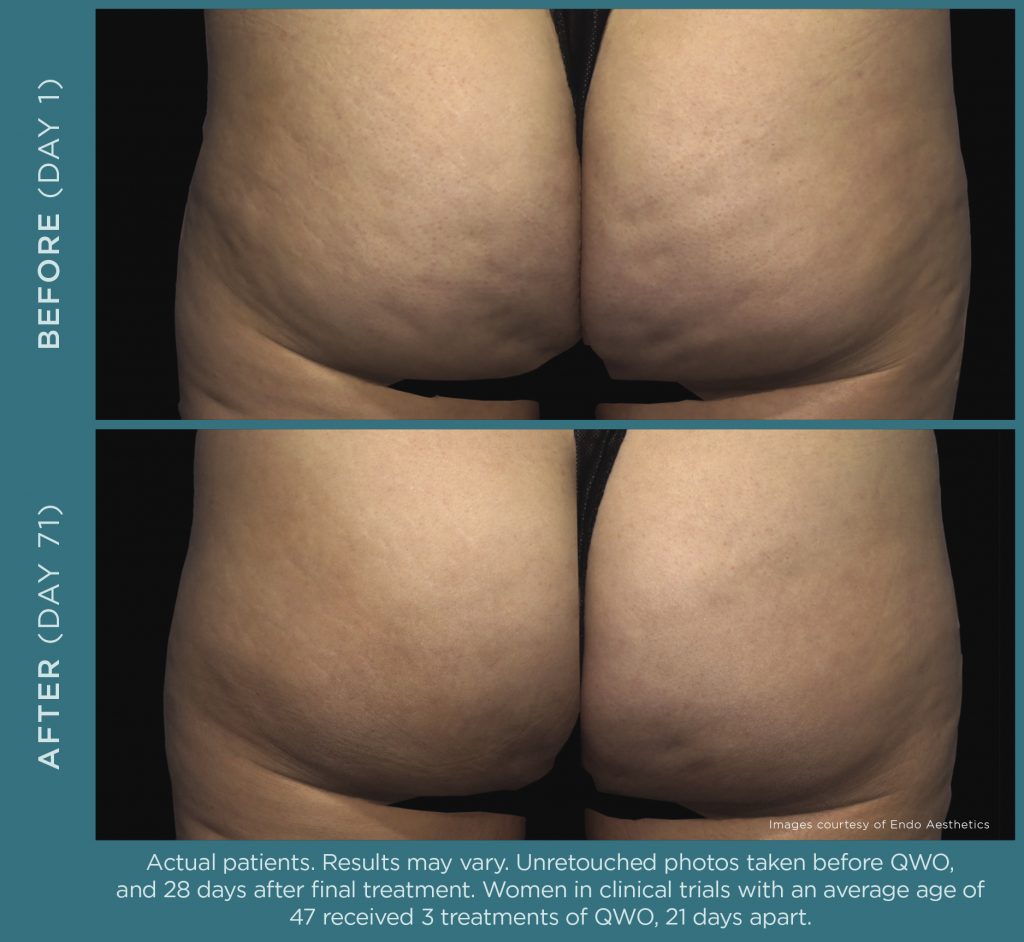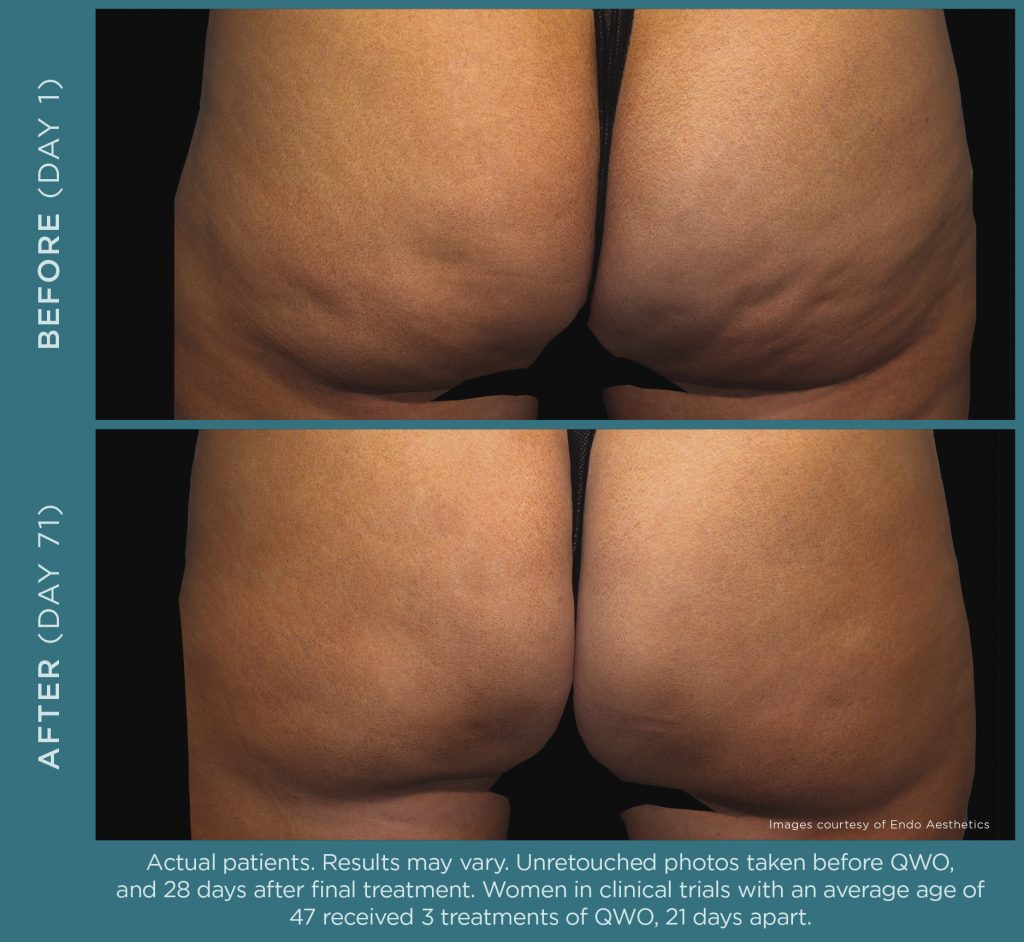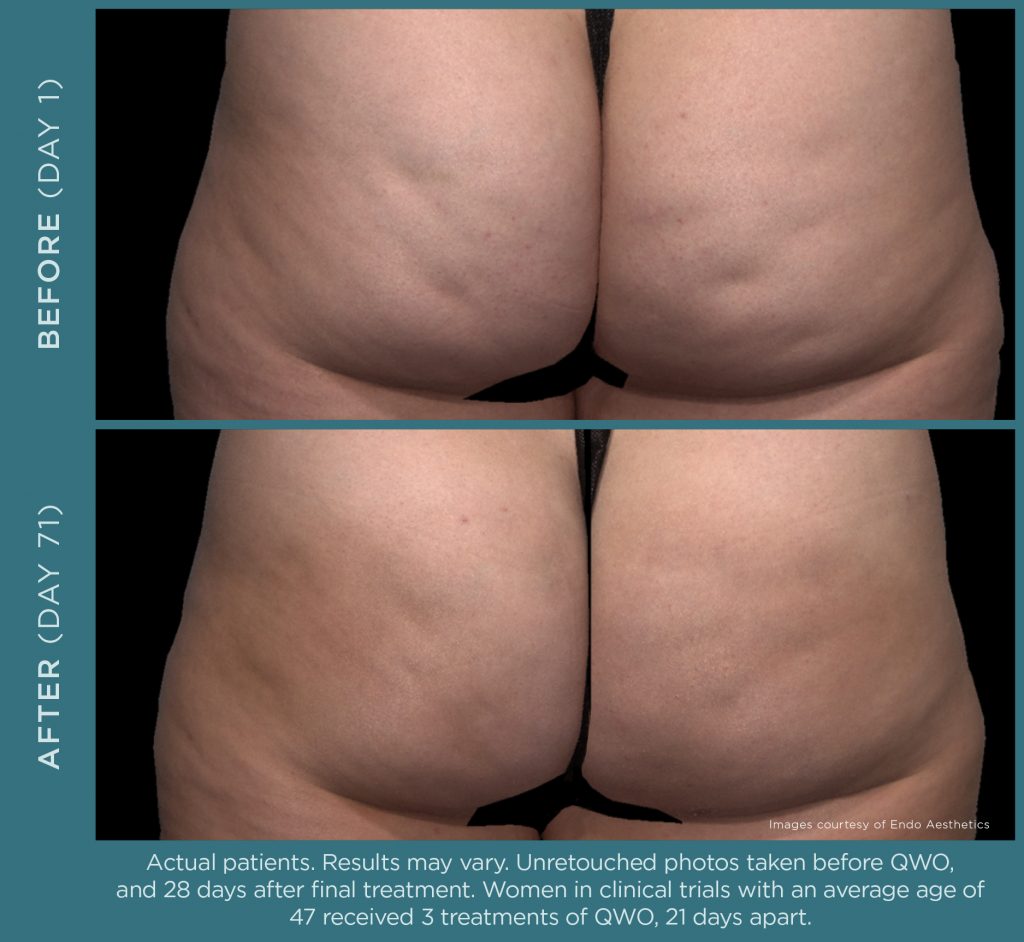 1. Cellulite is tough, but QWO helps
It's commonly misunderstood, but cellulite actually isn't fat. It's caused by thickening fibrous bands under the skin, which create tension as skin thins with age. Fat cells enlarge and push against the skin. These factors give way to the signature "butt dimpling" that 9 out of 10 women can attest to. It's not fat, and it's not caused by what you eat or your exercise habits. Cellulite requires a unique solution. Enter QWO! QWO uses enzymes called "collagenases" to release fibrous bands, stimulate new collagen growth, and redistribute fat cells. This prescription product smooths out the appearance of cellulite.
2. It's backed by clinical studies
QWO was tested in 3 clinical studies where 424 women were treated with QWO (1,800 total); another group of 419 women received a placebo. Each woman received 3 treatments spaced 21 days apart. QWO was proven to reduce moderate to severe dimples in adult women through the trial. We have also successfully treated our clients for cellulite in Bellevue! We're happy to share the results with you in a consultation. We will outline a treatment plan for your exact goals.
3. Injections are quick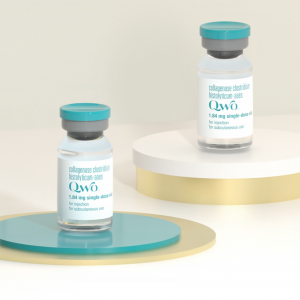 QWO can be administered by your ARNP nurse (just like Botox or dermal fillers), specifically for use on the buttocks of women. Injections are quick; they can be done in 10 minutes or less. Just like with Botox, a very small needle is used so it does not cause much discomfort. Post-injection bruising is common, which can be tender but there is no major discomfort reported. Bruising fades in 1-3 weeks. In clinical trials, women required no post-treatment downtime. Our Aesthetic Injector team, Danielle Roberts ARNP, CANS and Felicia Forrest ARNP, MSN will get QWO injections done quickly. Make sure you choose an efficient aesthetic injector. Ours are the best in Bellevue!
4. Good for all women
Women are prime candidates for QWO. QWO was developed with women in mind, as they tend to form cellulite in their buttocks with age. Men don't form cellulite in this area. For men or women worried about unwanted FAT, CoolSculpting could be for you! Many women can attest that QWO is the only solution that worked for their cellulite dimples. It has been studied on a diverse group of women across ethnicities and age groups.
5.Results in 10 weeks!
QWO treatments may include up to two injection areas, and treatments will be given 21 days apart for 3 total visits. After that, expect a reduction in cellulite dimples after ~10 weeks!

We're hearing from our clientele that QWO for cellulite in Bellevue has finally solved their long time problems with dimples! We're happy to offer a safe, FDA-approved solution to this very common problem…
We understand that QWO might not be for everyone. That's why potential clients can book a free consultation to discuss QWO (or other treatments) with our talented staff. We're happy to outline a treatment plan for your exact goals. We're confident we can find a product or service at our spa that's right for you.
Thank you!