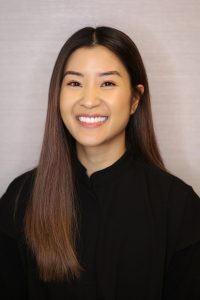 Jordan: Hello and welcome to 'CoolCast'! All about Advanced Skin and Body Solutions in Bellevue, Washington – the country's #1 CoolSculpting team. And I'm very happy to be here with CoolSculpting and Body Contour Specialist, Hong Truong. Hong, thanks so much for chatting with me!
Hong: Hi Jordan, thanks for having me!
Jordan: Of course. I talked to Sarah a few weeks ago, and I'm looking forward to hearing your knowledge as well. So how did you start at Advanced Skin and Body, and how long have you been here?
Hong: I started my esthetics career in 2019 doing facials and waxing at a day spa. I was doing that for 3-4 months, then COVID hit and I found myself with a half schedule and staggered appointment times. Not busy like I wanted. I filled my time learning lashes and waxing. Then I was seeking out other opportunities for a full-time schedule. I saw an opening at Advanced Skin and Body Solutions for a CoolSculpting Specialist; I'd only heard of CoolSculpting from school. I looked into it, then I applied to get into the medical side of esthetics. I went through the interview process and got hired. That was since last summer, so I've been here a little over a year now.
Jordan: At the spa now, are you mainly doing CoolSculpting? Or are you still doing esthetic services too?
Hong: I actually got hired on to just do CoolSculpting, so I've been doing that for the past year or so. I'm also in the process of training for facials like Signature Facials, microneedling, peels, things like that. I'm looking to pick up an extra day or two for facial treatments.
Jordan: Ok, and do you find yourself missing those other esthetic services now that you're doing CoolSculpting-only? Or do you like having that focus?
Hong: I liked just focusing on CoolSculpting since it was so new for me. Being able to spend my time learning it, I picked it up quickly. CoolSculpting University training really helped get me up to the level of everyone else here. I definitely miss doing some facial treatments… but now that we have more flexibility to do both, I'm excited to get back into it!
Jordan: Can you describe the process a client should expert from coming in for a fat-freezing consultation, all the way to treatment?
Hong: Sure, so for someone interested in CoolSculpting, we offer complimentary consultations with our experts. We offer virtual consults too, to give flexibility for people who don't have time for a spa visit. Once scheduled, it's designed to help you understand the technology. We educate patients on contraindications, and whether they're a good candidate. The initial consultation takes about an hour to discuss side effects, cost, future treatments, etc. Based on their body, we come up with a custom treatment plan for their goals. They also get a packet with ASBS team bios, CoolSculpting science, and clinical studies.
When they come for their treatment, we do a series of before photos, we grab their weight, they fill out medical history, we mark their body to prep, then we hook up our applicators. Treatment can take anywhere from an hour to a full day for larger plans. Patients can bring a laptop, work, a book to read; it's up to you how you spend your time. You can even take a nap! Once we finish treatment, we schedule clients for an 8-week follow up to take after photos, compare, and decide next steps. Maybe we have more services for you to try besides CoolSculpting.
Jordan: Since you've done CoolSculpting for a while, do you have a favorite story of a time working with a client to achieve their goals?
Hong: For me, I love when clients come in and they've been so busy caring for others but are finally taking time for themselves. I had one patient who was a caretaker for her son (for over 20 years). Unfortunately, he passed away, and she shared that now she'd like to focus on herself, and caring for her body. It made me want to care for her even more. That story really stuck with me.
Jordan: Yeah, well that's really nice that she felt comfortable sharing that. Jumping off of your personal experience, my last question: In terms of the body, do you have a favorite area to treat?
Hong: Yes, it has to be the mid-section area, because sculpting abs and flanks together makes a big difference. It's often the #1 priority for people. With a good reduction and results, you can really tell it's working.
Jordan: It makes a big difference for people and their confidence. So Hong, that's it for Part 1, but we will be back next time for Part 2. Thanks so much for jumping on the podcast with me.
Hong: Perfect, thanks so much for having me!