Permanent Cosmetic Makeup in Bellevue
Permanent cosmetic makeup is a state of the art form of cosmetic tattooing. The specialized techniques used for permanent cosmetics are often referred to as "micropigmentation", "micropigment implantation" or "dermagraphics". The cosmetic makeup implantation technique deposits tiny individual implants of pigment into the dermal layer of the skin.
Permanent cosmetics & makeup procedures are performed using various machines and methods, including the traditional (or specialized) tattoo or coil machines, the pen or rotary machine and the non-machine or hand method. These procedures are commonly performed on eyebrows, eyeliner, and lip color.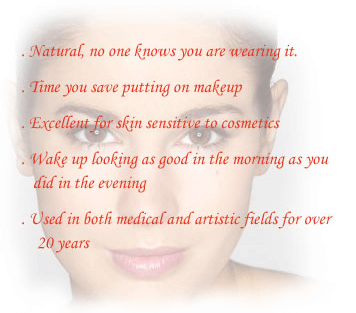 *Individual Results May Vary
These kinds of procedures include the initial consultation, initial application of pigment, and usually one or two follow up visits for adjusting the shape and color or density of the pigment.
Frequently Asked Questions about Permanent Makeup:
*Individual Results May Vary
Who benefits from Permanent cosmetic makeup?
Everyone who desires a soft and natural enhancement to their appearance.
*Physically active people who want to look their best throughout activities such as swimming, hiking, biking, tennis, aerobics, and don't want to worry about "sweating off" or reapplying cosmetics.
*Allergies and sensitive skin people often can't wear other cosmetics.
* Vision impaired people who have difficulty applying their cosmetics.
* Motor impaired including arthritis, Parkinson's disease, multiple sclerosis, stroke survivors, and those with unsteady hands who cannot apply their own makeup.
* Women who want to look their best all the time, even when they wake up.
Mothers and other busy professionals who don't have time for makeup.
*The best part is how great it looks with our Bellevue eyelash extensions.
Types of Permanent Cosmetic procedures: Eyebrows, Eyeliner, Lip Color
* Eyebrows
* Eyeliner, top and bottom
* Eyelash enhancement
* Lipliner
* Full lip color
Are Permanent Cosmetics really permanent?
Technically, these procedures are considered permanent because the color is implanted into the dermal layer of the skin and cannot be washed off. However, as with any tattoo, fading can and often does occur, requiring periodic maintenance. It is important to consider this and all aspects of the procedure when selecting a potential technician.