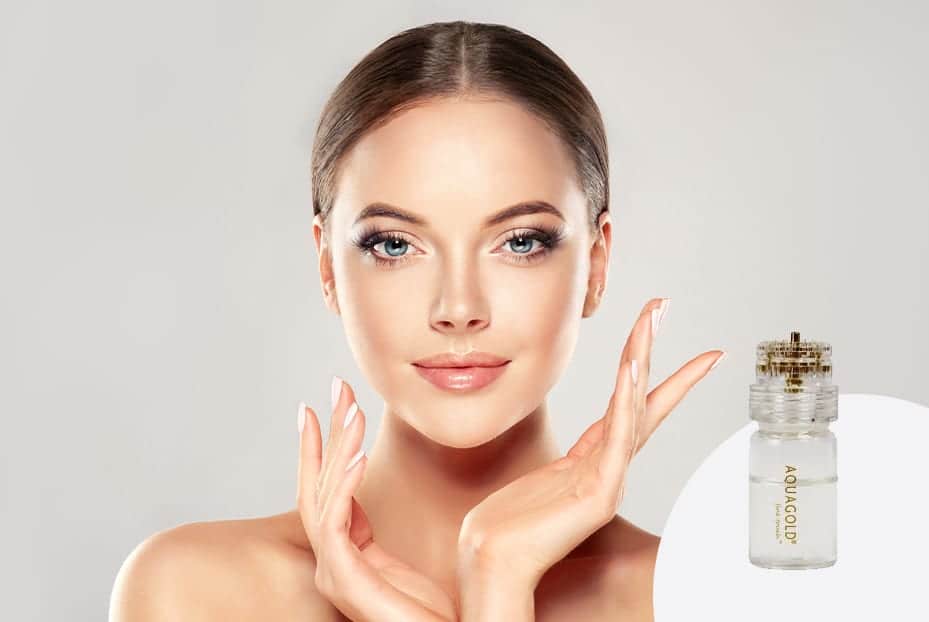 AquaGold: What Is It?
AquaGold is a gold-plated, hair-fine needle system to painlessly treat a combination of minor skin imperfections on the face, neck and décolletage. We use this tool with a variety of injectable products depending on the desired result.
The Purpose Of AquaGold
Here are examples of how we use AquaGold and the results we can achieve:
Shrink pores with micro-Botox
Smooth skin with dermal micro-hyaluronic gel such as Restylane or Juvaderm
Improve superficial acne scarring with micro-hyaluronic gel
Enhance laser treatments with micro-serums containing growth factors
Brighten skin with micro-pigment reducers
How AquaGold Works
AquaGold is perfect for treating mild skin imperfections like fine lines, acne scars, and early signs of aging. The process of using this tool is called microchanneling, which treats superficial layers of the skin to provide a subtle but noticeable improvement in skin texture, tone, luminosity, and general appearance.
Hair-fine, gold-plated stainless-steel needles infuse the skin with a small amount of active ingredients. This method enables the treatment of tighter spaces and the small volume of solution helps to ensure an even and natural result. Unlike a syringe, AquaGold delivers treatment using consistent depth over the skin's surface area. The result is natural-looking rejuvenation with minimal short-term redness.
Candidates For AquaGold
AquaGold typically creates a softer, more youthful glow. It is perfect for men and women who are interested in subtle changes to their appearance. If you are looking for more dramatic changes, we offer several other treatment options including microneedling which may be more appropriate. Call (425) 643-5772 or complete our Contact Us web form to learn more.
Schedule A Complimentary Initial Consultation
Every patient has different skin care goals. That's why we offer complimentary initial consultations. During this consultation, we assess your skin and consider your goals to determine whether AquaGold is right for you, and if so, how many applications you'll need to achieve your desired results. Call (425) 643-5772 or complete our Contact Us Form now to schedule your initial consultation.
About The AquaGold Procedure
If AquaGold is the best way to help you reach your skin care and anti-aging goals, an injection specialist will use the AquaGold applicator to deliver your custom treatment plan. When the injection specialist presses the applicator onto the treatment area, the vial releases solution through the needles directly into microchannels created in your skin. The injection specialist repeats this method until the entire area is treated.
Results To Expect
Results depend on each patient's custom ingredient solution and treatment plan. Typically, patients see an immediate improvement of texture, tone, and luminosity. Best results from each application are usually visible within two to three weeks.
Frequently Asked Questions
How Much Does AquaGold Cost?
Pricing varies depending on your AquaGold custom solution and treatment plan. Schedule a consultation and get a complimentary treatment plan to learn more about pricing.
Is AquaGold safe?
AquaGold is an FDA-registered direct dermal application device. The AquaGold delivery system is safe for most patients, and at Advanced Skin and Body Solutions, safety is important to us. We consult with every patient before treatment to make sure AquaGold is right for them. The gold-plated surgical-grade stainless steel needles reduce the risk of skin irritation and allergic reactions. Each AquaGold applicator is single use and comes in a sterilized package.
Who Shouldn't Get AquaGold?
Most patients can safely receive AquaGold treatment. However, if you have a bleeding disorder, take blood-thinning medications, or have keloid scars, AquaGold and similar treatments may not be right for you. Contact Advanced Skin and Body Solutions in Bellevue with questions about whether you can safely receive AquaGold treatment.
How Big Are AquaGold Needles?
There are about twenty needles at the tip of the applicator and each needle is only 0.6 mm long and 0.13 mm wide. This is finer than a strand of human hair.
Is AquaGold Painful?
AquaGold is a pain-free treatment, so topical anesthesia is unnecessary. Your injection specialist will ask about your comfort level during treatment. If you are experiencing discomfort (which would be unusual), she will adjust the procedure.
Are There Side Effects Of Using AquaGold?
Side effects are generally minimal and may include slight redness immediately after treatment. Side effects depend on the custom solution which the AquaGold system delivers. Discuss side effects with your injection specialist during your consultation to learn more.
What Makes Advanced Skin And Body Solutions Different?
There are a lot of things that make us different! For starters, Advanced Skin and Body Solutions is a leader in the industry, which gives our patients confidence and peace of mind. We offer complete aesthetic services for skin, body, and hair – we find that patients love the convenience of visiting us for more than one service at the same time. Our staff represent the best of the best, so patients can trust that they're in good hands. Further, relationships are important to us and we're a friendly, non-judgemental bunch. Schedule a complimentary initial consultation to see why we have so many great reviews on Google and Yelp.
Schedule a Free Consultation
Schedule a complimentary initial consultation at Advanced Skin and Body Solutions in Bellevue. We'll discuss your questions, concerns, and goals to develop an AquaGold treatment plan at no cost to you. Call (425) 643-5772 or complete our Contact Us web form today.
New: 'Cherry' Payment Plans! Advanced Skin and Body Solutions now offers zero percent financing through 'Cherry'! Click HERE to qualify in just 2 minutes, then use Cherry towards CoolSculpting, Emsculpt, and more at our spa… What is Cherry? Get treated now and pay...