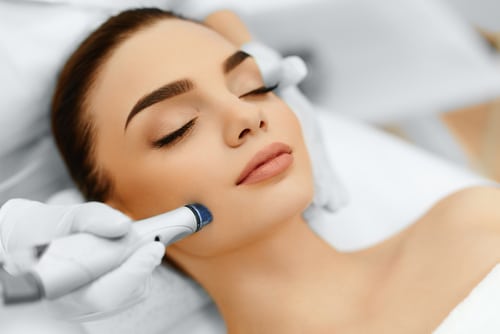 Hydraneedling
Are you tired of living with dull, congested, or aged skin? Our Hydraneedling treatment may be able to help. This treatment combines a number of nonsurgical techniques to help improve the overall appearance of your skin, as well as improve your skin from the inside out for a youthful glow.
What is the Hydraneedling?
The Hydraneedling combines our Signature HydraFacial with SkinPen Microneedling and growth factor serum. The HydraFacial combines cleansing, peeling, and extraction to hydrate, infuse, and protect the skin. Then, microneedling is used with growth factor serum to help stimulate collagen in your skin for even more impactful results.
Who is a Good Hydraneedling Candidate?
Individuals who are unhappy with the appearance of their skin and wish to address fine lines and wrinkles, scarring, rough or uneven skin texture, or acne scarring can often benefit from the Hydraneedling.
What is the Treatment Like?
The Hydraneedling uses 4-in-1 Vortex Technology™ to exfoliate, peel, and extract impurities from the skin. This treatment can be tailored to your individual skin concerns. Microneedling is then used (along with our growth factor serum) to create micro-wounds in the skin to help stimulate collagen production, which can lead to a more youthful, radiant complexion. Treatment is fairly quick, taking about 45 minutes to complete.
Is There Downtime?
There is no downtime required following the Hydraneedling. Following treatment, patients may experience redness in the treatment area, and mild peeling of sloughed dead skin may occur 3-4 days after treatment.
If you live in the Bellevue, WA area and are interested in the Hydraneedling, contact us today to schedule a consultation appointment.
Let's Talk!
Call (425) 643-5772 to schedule a free consultation or book an appointment.
At Advanced Skin and Body Solutions, we use cutting-edge techniques and the highest level of customer service to help you look your best, and more importantly, feel your best. We'll recommend a treatment to address your concerns and deliver your desired outcomes.
Aging is inevitable. Our skin and bodies often take the brunt of it. While we do not have the technology to stop aging, we can do things to minimize its effect on our appearance. Look no further than Advanced Skin and Body Solutions for your Bellevue skin tightening...