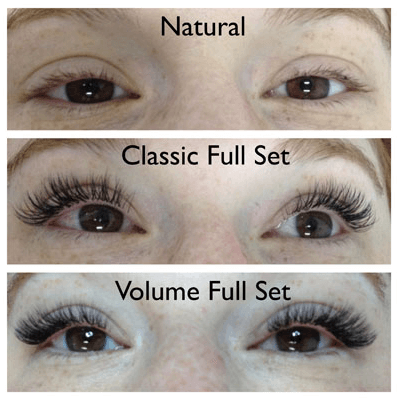 You've been admiring those almost unbearably thick, luscious lashes, on some of the most popular TV personalities and seductive movie stars. Now these new lashes are making their debut at Advanced Skin & Body Solutions. Volume Upgrade Lash Extensions, also called Russian-style or 3D lashes, have already fluttered through and captivated Europe, Asia, Australia, and Canada. Now, it's our turn to "volume-eyes" with this exciting new beauty trend.
It only makes sense that once length and curl were perfected with traditional lash extensions that the next progression would lead to greater volume. Now, instead of one synthetic lash being applied to each single, carefully separated eyelash, new Volume Lashes let you add as many as 5 extensions per natural lash. Thanks to ever evolving technology, these 3D synthetic lashes are so much thinner and lighter that a single natural lash can accommodate the new ones with 2, 3, 4 or even 5 extensions per lash. Due to the whisper lightness of Volume Upgrade Lash Extensions they are equally as safe and non-damaging as the traditional extensions, and may last a little longer too.
If your natural lashes are full and you simply want to add a bit of length or curl, classic lash extensions are perfect for you. However, if your lashes are sparse, thin, and barely visible, Volume Upgrade Lash Extensions will take your eyes to new extremes of beauty.
Our experienced lash stylists have successfully completed advanced training to apply Volume Upgrade Lash Extensions. They're ready to give you the lush lashes you've always wanted.  Don't hesitate to book your appointment today!