6 NATURAL ALTERNATIVES TO FACE & BODY LOTION
There is no need to spend hundreds of dollars on expensive face and body lotions when you can get the same benefits from nature. Below are a list of natural alternatives to keep your skin looking healthy and feeling smooth.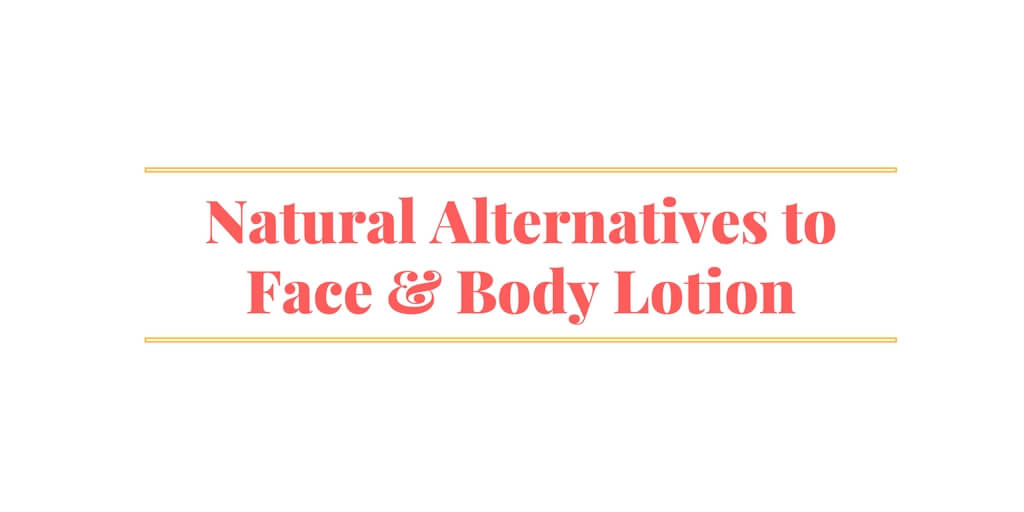 COCONUT OIL
This is a very popular alternative that is very well-known, cheap and can be found at your local grocery store. Coconut oil contains antioxidants and vitamins that help your skin stay moisturized. Many people worry about feeling sticky after applying it, but coconut oil absorbs rapidly into your skin and it leaves it feeling moisturized and smooth. Coconut Oil contains fatty acids that help reduce signs of aging, keeps dry skin moisturized, and can also help with other skin problems such as stretch marks, scars, cellulite, or even diaper rash. It can also be used as a natural SPF sunscreen as it blocks 20% of ultraviolet radiation.
OLIVE OIL
There are many uses of olive oil in the kitchen, but did you also know you can use it as a beauty product? Olive oil contains vitamin E, which serves as a moisturizer for the skin. It also promotes collagen production, which helps reduce the appearance of scars while keeping your skin looking young. Olive oil can also be used as a replacement for shaving cream and it will make your shave even smoother. The best part? You can find it in your own kitchen.
ALMOND OIL
This is another great alternative! Almond oil contains vitamins A, D and E that keep your skin nourished. Applying a few drops under your eyes can help reduce puffiness. Almond Oil penetrates multiple layer of your skin, so it gives you a deeper moisture than coconut oil which might be a better alternative for people with dry skin.
SHEA BUTTER
This butter is extracted from the nut of the karite nut tree, most commonly known as shea tree. Shea butter is known for promoting cell regeneration, which helps for the healing of wounds and a younger looking skin. It is a natural fat that is full of antioxidants and fatty acids, which include vitamins A, E, F, and K.
COCOA BUTTER
If you suffer from dry elbows, knees, and feet, cocoa butter is the perfect alternative for you. Cocoa butter is a highly moisturizing butter that come from the fat in the cocoa beans. It absorbs quickly into your skin leaving it soft and smelling great. Cocoa butter helps fade scars and it is safe to use for people with highly sensitive skin.
ALOE VERA GEL
Got a sunburn? Aloe vera gel is a natural anti-inflammatory that comes from the aloe vera plant that is very well known to help soothe your skin when you get sunburns. Aloe vera gel helps heal blemished or irritated skin and reduces stretch marks and wrinkles. It helps decrease pigmentation, brightens up your skin, helps fight aging, and you can even use it on your hair! When looking for Aloe Vera Gel, make sure it does not have any additives in it otherwise, it won't be any better than regular lotion.