Payment Plans @ ASBS
We offer two brands of payment plans to finance treatments at Advanced Skin and Body Solutions. Both can be used for large ticket items like: CoolSculpting, Emsculpt NEO, Morpheus8 Skin Tightening or Juvéderm Fillers (and more). Generally, financing is available for purchases over $3,000. Contact our Client Services Team if you have questions: (425) 643-5772. Let's dive into each option…


PatientFi® Financing:
PatientFi is a revolving line of credit that you apply for (and must use) within 6-months, or re-apply. It's helpful for large credit amounts, if you'd like 30 days until your first payment, and/or if you're financing an Allergan brand treatment – ex. CoolSculpting, Juv​​éderm Collection of Fillers, etc. It also features a handy payment calculator to type in any treatment cost to view financing terms. PatientFi also features…
Soft Credit Check (No Score Change).
0% APR (6 or 12 Months).
2-Minute Application.
No Extra Fees.
Credit Up to $20k.
1st Payment in 30 Days.
Best w/ Allergan Brands.
Needs Banking Info.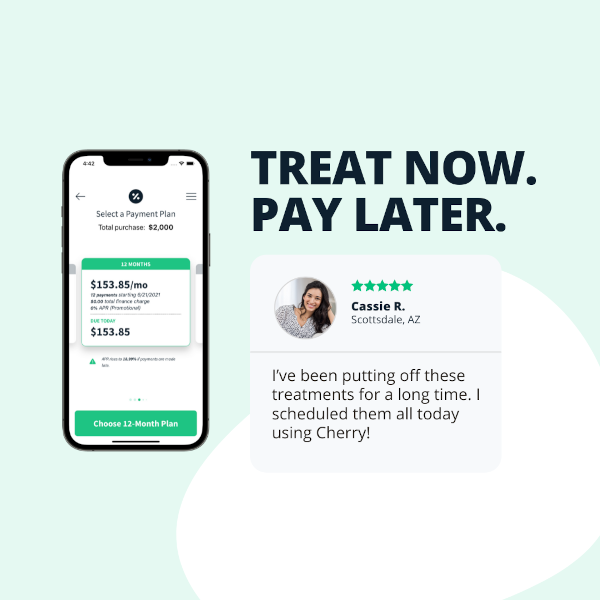 Cherry® Financing:
Cherry is a bit different. It's used for single purchases, splitting the cost into manageable chunks. It's easy to apply with just a debit card, but you'll need to make a down payment right away. Apply with them, Cherry will notify you of approval. Post-approval, Cherry dollars are available for 30 days. Re-apply for different purchase amounts each time you need it. Ready to use Cherry? Give us a call @ (425) 643-5772.
Like PatientFi, Cherry does a soft credit check (no change to your score!). 0% APR financing is available depending on your credit score. Cherry's application takes 2-minutes and costs no extra fee. Compared to PatientFi, Cherry features…
Soft Credit Check.
0% APR Options.
2-Minute Application.
No Extra Fees.
Credit Up to $10k.
1st Payment Immediately.
Use Within 30 Days.
Debit Card Required!
Have "Payment Plan" Questions?
Wondering Where to Start?
We Have You Covered!
You may call / text us at: (425) 643-5772. Our Client Services Team will assist or answer any questions. If you need help financing ASBS treatments, we hope this guide serves as a starting point. Financing with PatientFi and Cherry is getting popular. There's nothing wrong with splitting payments; no need to pay thousands upfront when you can divide it into smaller pieces.
PatientFi and Cherry are helping many clients expedite their aesthetic goals. No more waiting, no more excuses to start: Let's treat your skin and body today! We offer a range of aesthetic services for skin care, tightening, muscle toning, fat reduction, and more. Contact us now.