Lower Client Anxiety With Pro-Nox in Bellevue!

If you follow our world of esthetics, you might have heard about "Pro-Nox" – which is frequency used by medical spas during less comfortable services (botox, dermal fillers, radiofrequency microneedling, etc.) – Pro-Nox in Bellevue is the perfect compliment and help to clients who are prone to discomfort or anxiety during medspa treatments.
It's a safe, tested and effective combination of Nitrous Oxide (N2O) and Oxygen (O2) which clients may inhale during treatments. It's an analgesia (not anesthesia) which puts it in a unique category. We're proud to introduce Pro-Nox at Advanced Skin and Body Solutions in Bellevue…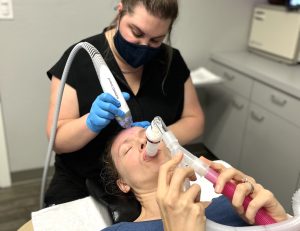 How Does Pro-Nox Feel?
Clients inhaling from Pro-Nox's patient-controlled mouthpiece will notice instant relief after just a few breaths (<1 minute). They describe it as relaxing, safe and comfortable while reducing discomfort and anxiety. Many say it "takes the edge off" during injectables and more. It's very similar to relaxing gas used at dentist offices around the world.
How is Pro-Nox Administered?
Unlike most medspa services, Pro-Nox is client self-administered for the best outcome. Clients use the mouthpiece to inhale Pro-Nox gas at their preference and leisure during treatment. They can inhale until their anxiety improves. Our ARNPs (Nurse Practitioners) will stay nearby to answer any questions you might have before getting started…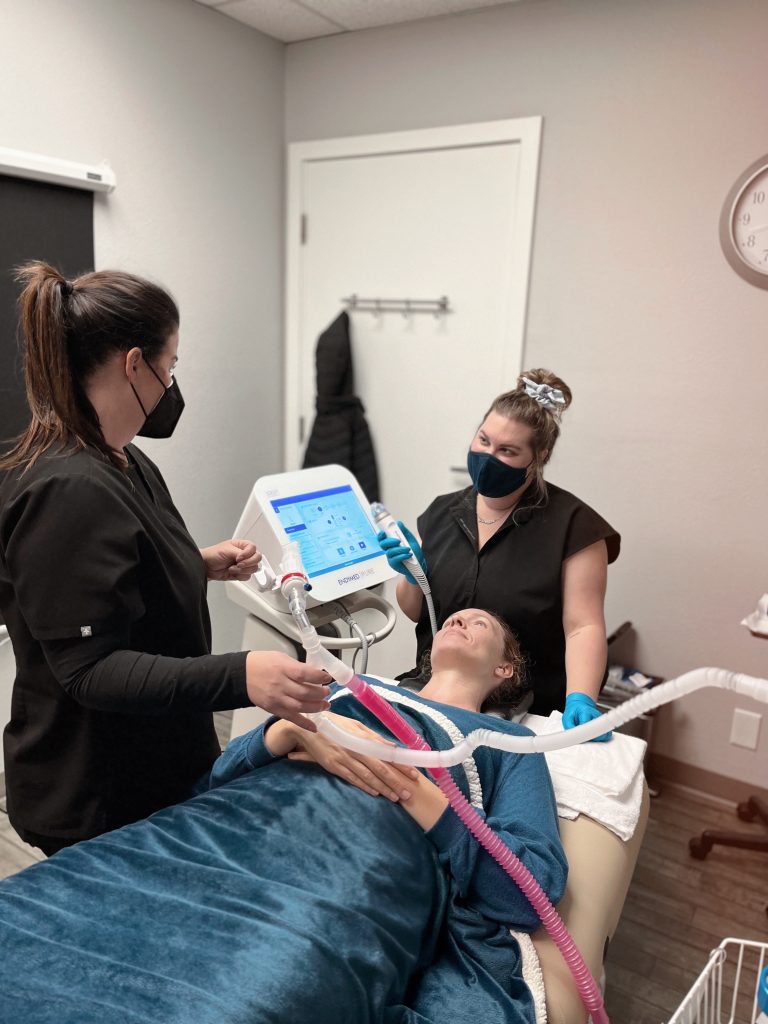 Danielle Roberts (ARNP) & Sheridan
Wesley (Master Esthetician) prep Pro-Nox!
How Long Does It Last?
Fortunately, Pro-Nox is designed for both quick relief AND quick dissipation from your system: When you've had enough, simply stop breathing through the mouthpiece and the sensation will fade within ~10 minutes. We only ask that clients stay in our waiting area for 20 minutes after treatment before operating a vehicle.
How Much Does Pro-Nox Cost?
We're only charging $75 Per Treatment to add Pro-Nox at Advanced Skin and Body Solutions. Your provider will mention the option to wheel in our portable Pro-Nox station for anxiety relieving benefits!
Is It Really Safe?
Yes! Pro-Nox is currently used by over 4,000 medical practices around the U.S. and Canada. It's a time-tested remedy that has been used in plastic surgery, hospitals, dermatology, labor and delivery for decades. It's by far the most requested anxiety-relieving spa solution; in a study of 200 medical practices, 99% believed Pro-Nox made their procedures more comfortable, 99% said patients were satisfied and 100% said it's easy to use (Pro-Nox).
Any Pro-Nox Side Effects?
Mostly not. Some patients report very brief feelings of nausea, but taking a few deep breaths (no mouthpiece) will help clear the Pro-Nox from your system. If you've experienced any similar feelings at the dentist before, let your Advanced Skin and Body Solutions provider know.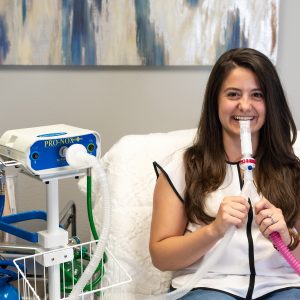 Do you always get anxious and
uncomfortable during BOTOX®?
You are not alone. Try Pro-Nox!
We see so many clients who want the esthetic benefits of injectables, microneedling and more without the discomfort. We believe everyone should be able to enhance their natural beauty in a stress-free environment. Enter Pro-Nox, a great solution for these cases.
Pro-Nox in Bellevue is opening up our services to an entirely new client base! If you're interested in treatment but scared of discomfort, call or text our team to book a FREE Pro-Nox Consultation: (425) 643-5772. 📲
Thanks for your time!