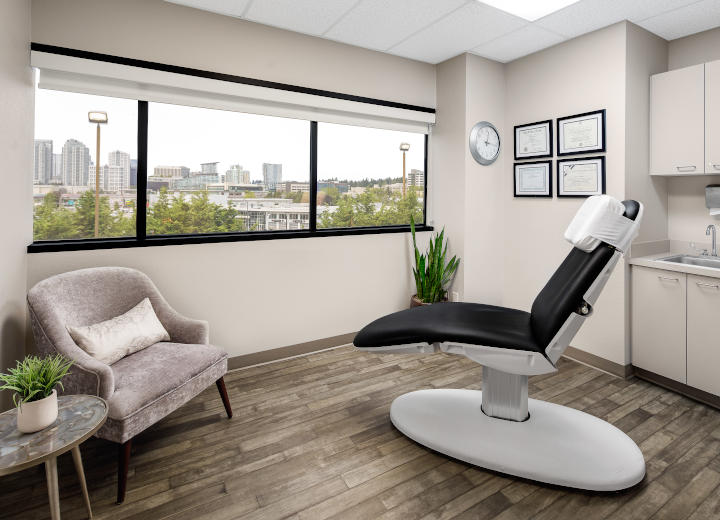 Cosmetic Injectables in Bellevue
Advanced Skin and Body Solutions uses a range of cosmetic injectables including Botox, dermal fillers, and Kybella to achieve desired outcomes. Our injector and medical director Felicia Forrest, ARNP uses her extensive experience and product knowledge to design personalized cosmetic injectables plans. She treats lines, wrinkles, and volume depletion – to name a few – to create a more vibrant and youthful appearance.
Our Great Service Guarantee
At Advanced Skin and Body Solutions, it's important that our patients have consistently great experiences. Delivering great service is part of our culture and a pillar of our success. That's why we offer a "Great Service Guarantee". If the service you receive is less than great, we'll do everything in our power to make it right. That's our promise to you.
Cosmetic Injectables
If you're looking to erase fine lines and prevent new signs of aging on your face, Botox is the perfect solution. This product leaves you looking rested and younger. Here are areas commonly treated with Botox:
Areas Commonly Treated by Botox:
The furrow or "elevens"
Forehead lines
Crow's Feet
The tail of the eyebrow to produce a tasteful lift
Bunny lines on the nose
The corners of the mouth to address the appearance of frowning
The chin to combat a dimpled or "orange peel" appearance
The neck to tighten and lift, also known as "the Nefertiti Lift"
Botox can also be a solution to excessive underarm sweating. If you have hyperhidrosis, explore how Advanced Skin and Body Solutions can use Botox to help you get relief. Fresh and dry underarms await.
Dermal fillers are a non-surgical way to treat sagging, wrinkling, and dull-looking skin. Our medical director and injector Felicia Forrest, ARNP uses Juvéderm, Sculptra, and Restylane to restore a youthful looking appearance. Here are a few things she can do with dermal fillers:
Lift excess laxity of the lower face
Contour cheeks and plump lips
Redefine jawline and lift laxity in the neck
Smooth away undereye circles
Smooth away wrinkles and folds throughout the face: nasolabial, marionette, and lip lines
Smooth away creping skin
Lift the brows and contour the upper face
Add volume to the backs of the hands to minimize the appearance of veins
Smooth away wrinkles on the chest and between breasts
Kybella is an injectable product that effectively removes submental fat (also known as the double chin). Once injected under the chin, Kybella converts fat cells into waste. The body flushes the waste to reveal an improve jawline and slimmer chin and neck with long-lasting results. This is a great option for patients who are unable or unwilling to undergo a surgical procedure to correct submental fat.
Call (425) 643-5772 To Schedule A Free Injectables Consultation
Our mission is to use cutting-edge techniques and the highest level of customer service to help you look your best, and more importantly, feel your best. Schedule a free injectables consultation with Felicia to get a custom treatment plan. Call (425) 643-5772 to schedule your free initial consultation today.
Let's Talk!
Call (425) 643-5772 to schedule a free consultation or book an appointment.
At Advanced Skin and Body Solutions, we use cutting-edge techniques and the highest level of customer service to help you look your best, and more importantly, feel your best. We'll recommend a treatment to address your concerns and deliver your desired outcomes.
Fat is stubborn. We know this as fact and we also know that there are some areas that just won't budge no matter how hard we exercise or how healthy we eat. It's really discouraging and can even cause some to abandon their healthy and fitness routines.  Here at...