Meet Our Expert Team Of Aesthetic Professionals
The expert team at Advanced Skin and Body Solutions consists of more than a dozen highly-qualified, service-focused aesthetic professionals. We hire team members at the top of their fields and according to our mission and values. When you're at Advanced Skin and Body Solutions, you're in good hands. Scroll down to meet our expert team of medispa specialists, estheticians, stylists, and more.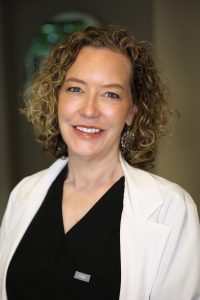 Felicia Forrest, ARNP, MSN
Medical Director and Aesthetic Injector
Felicia Forrest is the Medical Director at Advanced Skin and Body Solutions. She is also an Advanced Registered Nurse Practitioner and aesthetic injector at Advanced Skin and Body Solutions. She's passionate about building relationships with patients and using dermal injections to enhance patients' natural beauty.
Felicia brings many interesting experiences and skills to her professional work with our medical spa. She's been a nurse practitioner for more than two decades and her background includes working as a nurse midwife and women's health nurse practitioner. A few years ago, she was ready for a change and craving a creative outlet. That's why she started working in aesthetic medicine – and enjoys every minute of it.
Felicia never underestimates the importance of listening to patients. She considers this the foundation for giving them the results they desire and best overall experience. She also makes a point to educate patients so they know what to expect and look forward to. Seeing her patients happy and satisfied is her favorite part of practice. She understands the transformative power of aesthetic medicine – when people feel their best, they express that to the world.
When Felicia's not working, she enjoys good food, good coffee, running, Crossfit, being outside in nature, and spending time with family and her dogs. She has a daughter who is a competitive swimmer and water polo player, so she spends a lot of time driving to pools and attending meets and matches.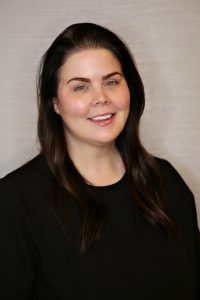 Danielle "Dani" Roberts ARNP, CANS
Aesthetic Injector
Danielle (Dani) Roberts is a Board Certified Nurse Practitioner and Certified Aesthetic Nurse Specialist (CANS). She earned both her Bachelor's and Master's Degree from Columbia University in New York City. Dani began working as an aesthetic injector 10 years ago and has earned her CANS certification, the highest certification an aesthetic provider can receive. She continues to master her craft by attending advanced aesthetics training to stay up to date on the latest advances in aesthetics. Dani believes that continuing education is vital to ensure her patients are receiving the most effective care.
As an Aesthetic Injector at Advanced Skin and Body Solutions, Dani enjoys combining her sharp aesthetic eye with her love of science. She takes pride in building a trusting and lasting relationship with her patients. She believes it is important to listen to her patients' desires and work with them to create an individualized treatment plan. Her goal is to provide her patients with a more youthful appearance by enhancing their natural beauty and uniqueness. To see some of Dani's before and after photos, follow her on Instagram @beautynurseinjector.
Dani is a PNW native. She lives in Edmonds with her husband, 4-year-old and 1-year-old sons. When Dani isn't busy with her patients, she enjoys spending time with her family – anything outdoors that helps get the energy out of her boys. Once her boys are older she is excited to get them on the slopes, a sport Dani and her husband grew up loving!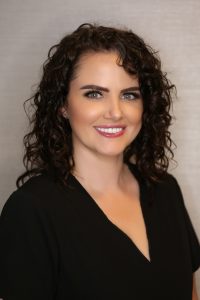 Danielle Lineback
Licensed Master Esthetician and Certified Diamond CoolSculpting Specialist
Danielle Lineback is a Certified Diamond CoolSculpting Specialist, Licensed Master Esthetician, and Xtreme-Certified Lash Stylist who has been with Advanced Skin and Body Solutions since 2011. She graduated from CoolSculpting University, CoolSculpting Master's Program, Washington Laser Institute, and Euro Institute of Skincare where she achieved the highest GPA in her graduating class. Danielle loves working with the expert team at our Bellevue medispa. She especially loves building relationships with clients and helping them see their beauty, both inside and out.
Danielle's favorite area to treat with CoolSculpting is the torso (abs and flanks together). On women, CoolSculpting this area reveals a beautiful hourglass figure. On men, it shows off an attractive "v" shape. Clients appreciate her positive approach, willingness to share her own experiences, and attention to individual needs.
When she's not working, she spends most of her time on the sidelines of the soccer field or bleachers of the ballpark cheering on her kids. Danielle especially enjoys taking an occasional girls' weekend away and going for date nights with her husband Josh.
Those who know Danielle describe her as sincere and no-nonsense. She feels fortunate to work at Washington's #1 CoolSculpting business. Danielle believes that commitment to service, results, and authenticity (no sales quotas!) is what makes Advanced Skin and Body Solutions so successful.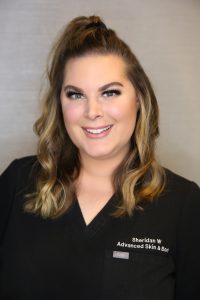 Sheridan Wesley
Licensed Master Esthetician
Sheridan Wesley is one of the wonderful Master Estheticians on our expert team. She joined Advanced Skin and Body Solutions in 2016 — right out of Esthetician school! Her background and experience help her each day. She specializes in rejuvenating skin treatments for their Bellevue clientele, and her clients are satisfied with the results!
Sheridan absolutely loves doing eyelash extensions, but you can also find her helping clients with a variety of treatments to make everyone feel their best. She performs Advanced Skin and Body Solutions' Clear + Brilliant treatments, among many others!
Sheridan has a cat named Wilfred (we love our pets!), and loves to travel to the beach – from the Oregon Coast all the way to the Caribbean! She's a friendly and skilled addition to the Master Esthetician squad at Advanced Skin and Body Solutions.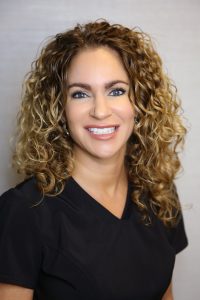 Ginger Carpenter
Licensed Master Esthetician and Certified Diamond Coolsculpting Specialist
Previous to entering the aesthetics industry, Ginger worked in the service and legal industries. In 2006, she found her passion and started working as a licensed esthetician. She was employed at Advanced Skin and Body Solutions from 2006 to 2010, at which point she decided to have children and take a break from working outside the home. We were excited for her return to our Bellevue medispa in 2020.
Ginger loves listening to patients, taking care of them, and helping them look and feel their very best. She has excellent attention to detail and a discerning eye for the artistry component of aesthetics. She's talented at making nervous patients feel comfortable and at ease.
One of Ginger's pastimes is intricate mosaic art. She's been doing this for over 23 years! She also enjoys working on her home to bring her newest décor visions to life, and spending time with her kids!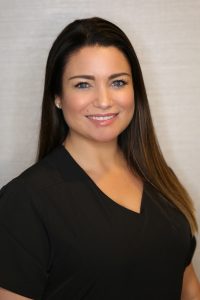 Jenny Takacs
Certified Diamond CoolSculpting Specialist
Jenny hails from Canada. She grew up on the east coast and eventually made her way west to Vancouver, British Columbia. After starting a career in banking, she decided to pursue further education at the Blanche MacDonald Institute of Applied Design, receiving diplomas in makeup artistry, special effects, and aesthetics. Soon she was working at a medispa and has never looked back.
In 2010, Jenny started working with esteemed doctors Martin Braun and Susan Braun at Vancouver Laser and Skin Care Centre. Not only did she become head of the CoolSculpting department, Jenny performed laser treatments, skin tightening, and medical grade skin care. She also assisted with cosmetic and therapeutic Botox, dermal fillers, PRP treatments, and more.
A new adventure awaited Jenny in the United States after she met her husband Drew. When she moved to the Seattle area, she worked in the home raising her young children until she decided it was time to work outside the home again. She feels lucky to have met Jennifer Washburn, owner of Advanced Skin and Body Solutions, who invited Jenny to become a member of her team.
The best part of Jenny's day is seeing patients get excited about their treatments, feel more confident, and step into their best possible selves. Patients like Jenny because of her warm personality and ability to relay information in easy-to-understand terms.
When she's not working, Jenny enjoys spending time with Drew, her two young children, and three step-children. They enjoy traveling (especially to Hawaii and Canada), going to parks, exploring trails, and sailing.
Sarah Erley
Licensed Master Esthetician and Certified Diamond Coolsculpting Specialist
Sarah Erley graduated with a 450-hour Master Esthetics License from Washington Laser Institute in August, 2020. Prior to receiving her Master Esthetician License, she attended Gary Manuel Aveda Institute for Basic Esthetics. Her background has helped her adapt to new treatments and services offered at Advanced Skin and Body Solutions.
While still performing esthetician services, Sarah joined the Advanced Skin and Body Solutions CoolSculpting "Cool Team". They are the #1 fat-freezing team on the West Coast, and Sarah is proud to share that success! They help solve "trouble areas" for fat reduction, implementing Cooltone muscle toning treatments for further results. Sarah specializes in both techniques.
Sarah enjoyed being in school and learning from classmates and colleagues in the esthetics industry. She is learning so much from Advanced Skin and Body Solutions' CoolSculpting experts and knowledgeable estheticians. Outside of school and work, Sarah enjoys spending time outside, cooking, reading, and seeing friends and family.
Aubrey Baron
Licensed Master Esthetician
Aubrey Baron has been a Licensed Master Esthetician since 2017, and attended the Washington Laser Institute as well as the Euro Institute of Skincare. She also has a background in social sciences and earned her BA from Eastern Washington University in 2016.
Aubrey's varied background and schooling help her adapt to the ever-changing medispa landscape. She wants to be at the "cutting edge" of Master Esthetician services. Advanced Skin and Body Solutions always looks to innovate with the newest beauty treatments. It's a place to try new ideas, and Aubrey loves the challenge!
She believes in the importance of client education, personalized at-home skin care regimens, and customized treatment plans to help clients look and feel their best. In her free time, Aubrey enjoys cooking, skiing, and playing with her Pomeranian named Mika!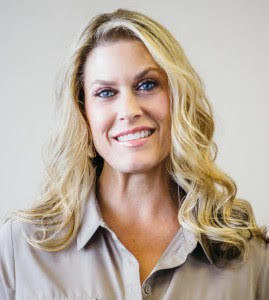 Kellie Carpenter
Licensed Master Esthetician and Certified Diamond CoolSculpting Specialist
Kellie Carpenter was born and raised in Washington, and has been in the esthetics industry for over 20 years! She attended Esthetician school in 2008 before obtaining her Master Esthetician license a few years later. Kellie's career has taken her throughout the greater Puget Sound area, though she ultimately settled in Bellevue as an Esthetician / CoolSculpting Specialist at Advanced Skin and Body Solutions!
Her experience includes laser resurfacing, CoolSculpting, facial peels, Dermaplaning, IPL, and assisting with injectables. She enjoys helping people achieve their esthetics goals, and finds it very rewarding! Our industry is constantly changing and evolving, and Kellie enjoys staying up to date on the latest trends.
Outside of work, her teenage son keeps her busy. They enjoy nature hikes, board games, and visiting their family in Florida when they can!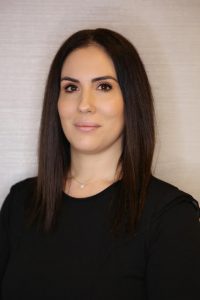 Lauren Howe
Licensed Master Esthetician and Certified Diamond CoolSculpting Specialist
Lauren Howe was born and raised in Sammamish, Washington. She lived with her parents and seven siblings before moving to the Big Island of Hawaii for 6 years. She later settled back in the Pacific Northwest, where she currently resides.
Lauren graduated from the Euro Institute of Skincare in Renton, where she learned European facial techniques and became a Licensed Master Esthetician. After discovering her passion for medical esthetics, Lauren attended the Washington Laser Institute (trained on laser devices, skin health). As a Licensed Master Esthetician and Certified Coolsculpting Specialist at Advanced Skin and Body Solutions, Lauren focuses on results-oriented treatments. She loves educating patients while helping them to look and feel their best!
Now, Lauren has settled in small town Enumclaw, Washington where she enjoys the open spaces and mountain views. In her free time, she loves spending time with family, gardening, reading about nutrition, cooking, and snowboarding.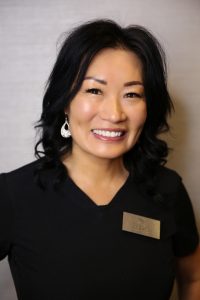 Lori Jeremiah
Office Manager
Lori Jeremiah started at Advanced Skin and Body Solutions in 2017, and now fills the role of Office Manager. Her job includes managing front desk operations and client communications – she loves client work, as well as the wonderful team energy at the spa.
Clients know Lori as an energetic, smiling presence at Advanced Skin and Body Solutions! She is eager to learn, and always sports her signature positive attitude.
When she's not helping our guests have A+ experiences, you can find Lori teaching kickboxing and weightlifting classes. Lori has been married to her high school sweetheart for 30 years, has three grown-up children, and one cat (she is a self-proclaimed crazy cat lady).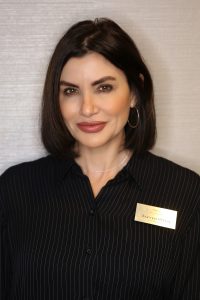 Shannon McBay
Client Services Manager
Shannon joined Advanced Skin and Body Solutions in 2017 after spending most of her career in management roles for investigations/attorney service and women's specialty apparel.
Shannon's background prepared her for the unique challenges of running a top Bellevue medispa. Her leadership is crucial! Advanced Skin and Body Solutions is constantly adding new treatments, and Shannon helps to implement them for maximum client satisfaction. Clients know Shannon as a true friendly face to all!
Born and raised in Southern California, Shannon moved to Washington 20 years ago, and is now a fully converted "Cali-Washingtonian". In her free time, you can find Shannon hiking, watching cheesy horror movies, and taking spontaneous road trips. She loves being part of such a passionate, customer service-oriented team!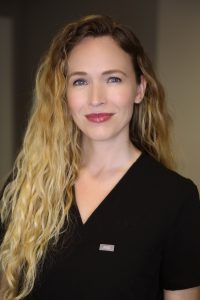 Carina Lewis
Guest Services Coordinator
Carina Lewis has a rich and interesting background in the aesthetics, performance, and health and wellness industries. After modeling for decades, she decided it was time for a change. Now she's our Guest Services Coordinator at Advanced Skin and Body Solutions.
Carina finds gratification in helping people create a fresh outlook on themselves! She's known to greet everyone in our medispa with a big smile. You'll find her at the front desk, always sporting a positive and welcoming attitude.
Outside of working at our Bellevue medispa, Carina enjoys writing, recording, and performing music. Singing has been her passion for years. She also enjoys spending time with family and riding quads with her husband.
Minna Green
Guest Services Coordinator
Minna Green was born in San Antonio, Texas. Her mom was military, so she lived in Tacoma, Washington for a few years before moving to Bellevue for a fresh start – it was a nice change of scenery for her. Prior to starting her Guest Services Coordinator role at Advanced Skin and Body Solutions, Minna completed two different career programs: Medical Assisting and Esthetics. Her experience helps her handle front desk work each day at Advanced Skin and Body Solutions.
Minna decided to pursue esthetics after falling in love with facials (and the "glowing" sensation they leave on your skin!). She wants to help everyone have that same, fresh feeling. Minna is fascinated by treatments used in the medispa industry to remedy body and skin concerns. There is always something exciting to learn! Advanced Skin and Body Solutions regularly introduces new beauty products and features.
Outside of work, Minna enjoys binging Netflix either by herself, or with friends and her boyfriend. She also enjoys traveling to new places and seeing what the world has to offer!
Jasmine Betti
Guest Services Coordinator
Jasmine Betti is originally from Tacoma, Washington. After graduating from Harrison Preparatory School, she moved to Bellingham, Washington to get her Associate's degree in nursing. Soon after, she moved back south to be closer to the desirable Bellevue and Seattle areas. Now, she joins Advanced Skin and Body Solutions' front desk team as a Guest Services Coordinator!
Jasmine loves being part of a medispa environment which leaves clients feeling confident and happy. She finds herself drawn to the medical industry and our spa as the perfect combination of beauty-enhancing services in a professional setting! Advanced Skin and Body Solutions is a great fit for her style and background.
Outside of work, Jasmine enjoys going on hikes with her boyfriend and their two dogs – Kona (a chiweenie), and Bubbles, the pug!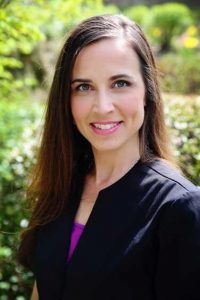 Danielle Walsh
Bookkeeper/Payroll
Our Bookkeeper, Payroll Specialist and Accountant, Danielle Walsh, is one of our veteran employees — she's been at Advanced Skin and Body Solutions for over 13 years! In her time, she has seen the company grow from a small operation into a top-rated medispa in the U.S.!
After Danielle received her MBA, she spent time in Boston working in Human Resources. She later switched career paths (to finance), and moved to the Seattle area. That was 17 years ago, and she's been here ever since! Her background helps her handle the many administrative tasks that come with being Bookkeeper. She's a fantastic resource for all Advanced Skin and Body Solutions employees!
Danielle loves many things about her job, but first and foremost, she appreciates her coworkers; our expert team truly feels like a family. Outside of work, she loves to exercise, travel, and spend time with her four wonderful kids and husband.
How is CoolTone™ different from CoolSculpting®? CoolSculpting is a convenient, painless, and non-invasive treatment that freezes away unwanted fat to create a slimmer body. CoolTone is the perfect compliment to CoolSculpting. While CoolSculpting helps you lose fat,...