Meet Our Expert Team Of Aesthetic Professionals
The expert team at Advanced Skin and Body Solutions consists of more than a dozen highly-qualified, service-focused aesthetic professionals. We hire team members at the top of their fields and according to our mission and values. When you're at Advanced Skin and Body Solutions, you're in good hands. Scroll down to meet our expert team of medispa specialists, estheticians, stylists, and more.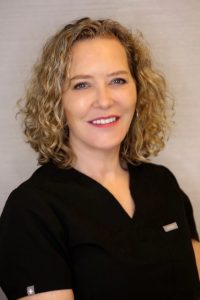 Felicia Forrest, ARNP, MSN
Medical Director
Aesthetic Injector
Felicia is the Medical Director at Advanced Skin and Body Solutions. She is also an Aesthetic Injector / Advanced Registered Nurse Practitioner at the spa. She's passionate about building relationships with patients and using dermal injections to enhance their natural beauty. Felicia brings many interesting experiences and skills to our medispa.
She's been a nurse practitioner for over two decades. Her background includes working as a nurse midwife and women's health nurse practitioner. Felicia started working in aesthetic medicine for a professional and creative opportunity – she enjoys every minute of it! She never underestimates the importance of listening to patients. She considers this the foundation for great client experiences and results. She also values patient education, so they know what to expect. Felicia understands the transformative power of aesthetics – when people feel their best, they express that to the world.
When Felicia isn't working, she enjoys good food, coffee, running, Crossfit, being outside in nature, and spending time with her family and dogs. She has a daughter who is a competitive swimmer and water polo player, so she spends a lot of time driving to pools to attend meets and matches.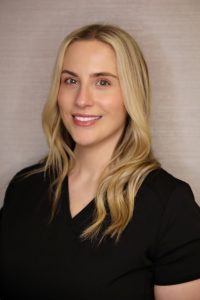 Bree Smith, RN, BSN
Aesthetic Injector
Bree is an Aesthetic Injector (BSN) at Advanced Skin and Body Solutions. She joined ASBS in 2022 after 11 years in Emergency and Trauma. She is originally from Georgia, but a travel nurse assignment brought her to Washington. She loved it so much that she stayed. Years in Washington and she still has her southern accent. Bree has her BSN (Bachelor of Science in Nursing) and works toward her ARNP certification.
Joining a medispa is a great combination of Bree's love for nursing and skin care. Her injector journey started with top trainers in Chicago and California. Bree loves helping patients achieve their goals with a variety of aesthetic modalities – helping to boost their confidence. Her philosophy is to provide a safe approach to aesthetics that gives a natural, refreshed look (never overdone). She enjoys building trusting and meaningful relationships with patients and working towards their goals.
Bree's passion is to help others look and feel their best at any age! She works to stay up-to-date on the latest trends, procedures and safety in aesthetics through education, conferences, training, journal articles, and top trainers.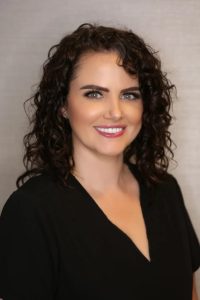 Danielle Lineback
Licensed Master Esthetician & Body Contour Director
Danielle is our Licensed Master Esthetician & Body Contour Director. She's been with Advanced Skin and Body Solutions since 2011. She graduated from CoolSculpting University, CoolSculpting Master's Program, Washington Laser Institute, and Euro Institute of Skincare where she achieved the highest GPA in her graduating class. Danielle loves working with the expert team at ASBS. Her favorite area to treat with CoolSculpting is the torso (abs / flanks together). On women, CoolSculpting this area reveals a beautiful hourglass figure. On men, it shows off an attractive "v" shape.
Clients appreciate Danielle's positive approach, willingness to share her own experiences, and individual attention. Those who know Danielle describe her as sincere and no-nonsense! She feels fortunate to work at Washington's #1 CoolSculpting spa. Danielle believes that commitment to service and results (no sales quotas!) is what makes Advanced Skin and Body Solutions so successful.
When she's not working, Danielle spends most of her time on the soccer field sidelines or ballpark bleachers cheering on her kids. Danielle especially enjoys taking an occasional girls' weekend away, and going out for date nights with her husband, Josh.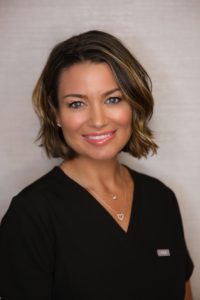 Jenny Takacs
CoolSculpting & Body Contour Specialist
Jenny hails from Canada. She grew up on the east coast and eventually made her way west to Vancouver, BC. After starting a banking career, she decided to pursue further education at the Blanche MacDonald Institute of Applied Design, receiving diplomas in makeup artistry, special effects, and aesthetics. Soon she was working at a medispa and didn't look back. In 2010, Jenny started working with esteemed doctors, Martin and Susan Braun at Vancouver Laser and Skin Care Centre.
Not only did she become head of the CoolSculpting department, Jenny performed laser treatments, skin tightening, and medical-grade skin care. She also assisted with cosmetic and therapeutic Botox, fillers, PRP, and more. A new adventure awaited Jenny in the U.S. after she met her husband Drew. When she moved to Seattle, she worked in the home raising her children until she decided it was time to work outside the home again. She feels lucky to have met Jennifer Washburn, Founder of Advanced Skin and Body Solutions, who invited Jenny to join the team.
The best part of Jenny's day is seeing patients get excited about treatments, feel more confident, and step into their best possible selves. Patients like Jenny because of her warm personality and ability to relay information in easy-to-understand terms. When she's not working, Jenny enjoys spending time with Drew, her two young children, and three step-children. They enjoy traveling (especially to Hawaii and Canada), going to parks, exploring trails, and sailing.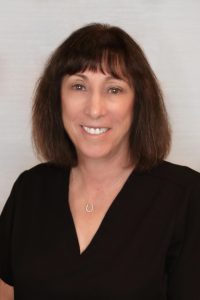 Rikki Rothenberg-Klein
CoolSculpting & Body Contour Specialist
Rikki has been involved with CoolSculpting since March 2014 as Owner, Director & CoolSculpting Consultant for Medical Spa NW in Redmond, Washington. She was responsible for consultations, follow-up appointments, scheduling and clinic management. When MSNW closed business in July 2021, Rikki was thrilled to be offered a position as a CoolSculpting & Body Contour Specialist at Advanced Skin & Body Solutions.
Rikki was born in Brooklyn, New York and raised in Rockaway. She loved growing up within blocks of the Atlantic Ocean. She graduated from Brooklyn College with a Bachelor's in Health and Physical Education and a Master's in Recreational Administration. After leaving New York, Rikki lived in Florida, Texas and California. She started as a teacher followed by several sales and marketing positions for industries like telecom, financial, video/laser entertainment, printing and health/aesthetics. She fell in love with Washington on a business trip and asked to be transferred. She's lived here ever since.
Rikki is a mom to her fabulous Burmese cats, Dillon and Jasper. She's also a "golfaholic": founding member of Northwest Ladies Golf Association (NLGA). She loves golfing with her husband, Bruce and their golfing buddies. She's a dedicated Seahawks fan (go Hawks!) and a lover of theater, concerts and mystery novels. Rikki believes life is meant to be lived to the fullest and shared with wonderful friends and associates. It's essential to make every day a great day!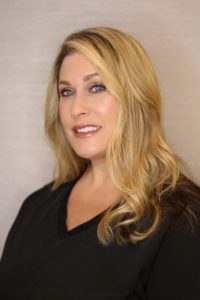 Kellie Carpenter
Licensed Master Esthetician
CoolSculpting & Body Contour Specialist
Kellie was born and raised in Washington, and has been in the aesthetics industry for over 20 years. She attended esthetician school in 2008 before obtaining her Master Esthetician license a few years later. Kellie's career has taken her throughout the greater Puget Sound area, though she ultimately settled in Bellevue as a Licensed Master Esthetician / CoolSculpting & Body Contour Specialist at ASBS.
Her experience includes laser resurfacing, CoolSculpting, facial peels, Dermaplaning, IPL, and assisting with injectables. She enjoys helping people achieve their aesthetic goals, and finds it very rewarding. Our industry is constantly changing and evolving, and Kellie enjoys staying up-to-date on the latest trends. She's known as a skilled body specialist with a sharp eye for fat trouble areas: ex. stomach pooch, "love handles", the double chin and more.
Outside of work, Kellie enjoys spending time with her teenage son. They love nature hikes, board games, and visiting their family in Florida when they can!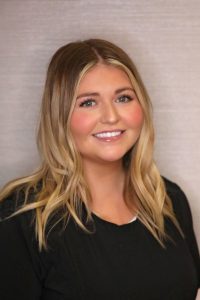 Trista McDonough
Licensed Master Esthetician
CoolSculpting & Body Contour Specialist
Trista was born and raised here in Washington in a small town called Ravensdale (outside of Maple Valley). She was in high school during the start of COVID, so she was especially eager to start her career as soon as possible. She now joins our medispa team as a Licensed Master Esthetician / CoolSculpting & Body Contour Specialist.
Before that, Trista was always passionate about aesthetics. She had already started at the Euro Institute of Skin Care while still a senior at Tahoma High School. Just two weeks after graduation, she quickly started "Master Esthetics" schooling as she was very confident about her career path. She loves this industry because the results are priceless. She feels accomplished when patients walk away feeling beautiful and confident in their skin. As a CoolSculpting expert, Trista has learned to evaluate ASBS clients for fat reduction treatments. Clients love the results that we bring.
Outside of work, Trista loves spending time with her nieces and nephews. They are her whole world! She also enjoys going out to dinners with friends and having girls' nights at home.
Aubrey Baron
Licensed Master Esthetician
Aubrey has been a Licensed Master Esthetician since 2017, and attended the Washington Laser Institute and the Euro Institute of Skincare. She also has a background in social sciences and earned her BA from Eastern Washington University in 2016. She now joins our ASBS esthetician team helping to educate clients on skin solutions. Aubrey treats common concerns like acne, skin texture, scarring, redness and more.
Aubrey's varied background and education help her adapt to the ever-changing medispa landscape. She strives to stay on the cutting-edge of Master Esthetician services. Advanced Skin and Body Solutions always looks to innovate with the newest treatments. It's a place to try new ideas, and Aubrey loves the challenge. Morpheus8 treatments fill much of her schedule, with clients lining up to try "radiofrequency" skin tightening on the face and body.
Aubrey believes in the importance of client education, personalized at-home skin care regimens, and custom treatment plans to help clients look and feel their best. In her free time, Aubrey enjoys cooking, skiing, and playing with her Pomeranian named Mika!
Clohey Horton
Licensed Master Esthetician
Clohey (our Licensed Master Esthetician) has had a varied career: Working in property management for seven years, as a nanny, makeup artist and student. Clohey always knew she wanted to be an esthetician since she first got a skin facial at 16. In 2019, she graduated from Evergreen Beauty College with a Master Esthetics license. She now joins our Esthetics Team at Advanced Skin and Body Solutions.
She loves working with clients in the treatment room. Clohey always advocates for self-care, giving clients a safe space to focus on their skin needs. Her favorite services for great results are microneedling, dermaplaning, and 'Signature Customized Facials'. She strongly believes in the magical combination of medical-grade treatments and skin care.
Outside of work, Clohey enjoys spending time with her high school sweetheart and their three fur babies: Benny, Nalla and Norman! In 2020, Cloey started her own small business (online) for hand-crafted candles and crafts. She also enjoys airbrushing, special fix makeup and learning new skills.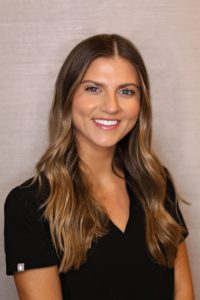 Alecsis Piscuc
Guest Services Coordinator
Alecsis started as a Guest Services Coordinator at Advanced Skin and Body Solutions in 2022. She was born and raised in Bellevue, Washington and has always loved the city – especially when it's sunny! She graduated from Seattle Pacific University with a Bachelor's degree in communications and has worked in the customer service industry for almost a decade. Her role at ASBS involves helping clients have a great experience.
From answering questions to booking treatments, Alecsis is a good point-of-contact for patients waiting in our lobby. Our front desk team is known for great attitudes and willingness to help. She considers strong client service to be the key to happy, returning customers.
Alecsis loves the beauty and medispa industry because it's an avenue to help people feel better about themselves (and importantly, love themselves.) She admires the industry's focus on growth and innovation. The beauty world is always evolving. Outside of work, she loves spending time with her puppy ("Champion"), working out, hiking, shopping, and really anything that involves the people she loves.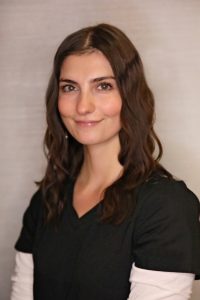 Ashley Piscuc
Guest Services Coordinator
Ashley was born and raised right in Bellevue, Washington and she loves it here! Before starting as a Guest Services Coordinator at Advanced Skin and Body Solutions, Ashley graduated college with a degree in global studies. Before she knew her path would lead to medical aesthetics, Ashley only knew she wanted to help people. Her client-facing role allows her to do just that. Front desk operations involve knowing all about ASBS treatments as well as best-practices for clients. We work hard to maintain our stellar client reputation in Bellevue.
The medispa industry stands out to her as it helps clients feel happy in their skin. It can make a big difference in their confidence. When clients are happy, Ashley knows she's succeeded. She encourages clients to reach out with any questions or to book treatments.
When she's not working, Ashley enjoys hanging out with her family and her dog. She also loves painting, reading and being outdoors in general.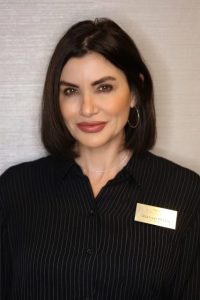 Shannon McBay
Client Services Lead
Shannon joined Advanced Skin and Body Solutions in 2017 after spending most of her career in management roles for investigations/attorney services and women's specialty apparel. She now assists with client relationships as a Client Services Lead at ASBS. Her role involves booking appointments, fielding patient questions, and holding a wide knowledge of medispa treatments.
Shannon's background prepared her for the unique challenges of running a top Bellevue medispa. Her leadership is crucial. Advanced Skin and Body Solutions is constantly adding new treatments, and Shannon helps to implement them for maximum client satisfaction. Clients know Shannon as a friendly face to all!
Born and raised in Southern California, Shannon moved to Washington 20 years ago and is now a fully converted "Cali-Washingtonian". In her free time, you can find Shannon hiking, watching cheesy horror movies, and taking spontaneous road trips. She loves being part of such a passionate, customer service-oriented team.
Jasmine Uwaine
Assistant Office Manager
Jasmine is originally from Tacoma, Washington. After graduating from Harrison Preparatory School, she moved to Bellingham, Washington to get her Associate's degree in Nursing. Soon after, she moved back south to be closer to the desirable Bellevue and Seattle areas. Now, she helps run Advanced Skin and Body Solutions' operations as our Assistant Office Manager. Jasmine helps clients by answering questions, booking treatments and keeping spa days running smoothly.
Jasmine loves being part of a medispa environment that leaves clients feeling confident and happy. She finds herself drawn to the medical industry and our spa as the perfect combination of beauty services in a professional setting. Advanced Skin and Body Solutions is a great fit for her style and background. Clients know Jasmine as a helpful resource up front who can always point you in the right direction.
Outside of work, Jasmine enjoys going on hikes with her husband and their two dogs – Kona (a chiweenie), and Bubbles the pug!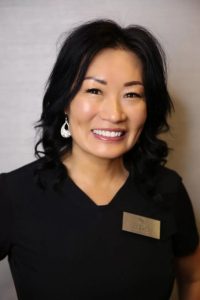 Lori Jeremiah
Office Manager
Lori started at Advanced Skin and Body Solutions in 2017 and now fills the role of Office Manager. Her job includes managing front desk operations and client communications – she loves client work, as well as the wonderful team energy at ASBS. Lori holds it all together with appointment booking, client relationships, marketing strategy, social media interaction and more. She's always willing to lend a hand.
Clients know Lori as an energetic, smiling presence at ASBS. She's eager to learn and always sports her signature positive attitude! She encourages clients to speak their mind and give feedback so we can improve our practice.
When she's not helping our guests have A+ experiences, you can find Lori teaching kickboxing and weightlifting classes. Lori has been married to her high school sweetheart for 30 years, has three grown-up children, and one cat (she is a self-proclaimed crazy cat lady).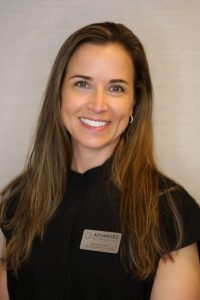 Danielle Walsh
Finance and Operations Manager
Our Finance and Operations Manager, Danielle is one of our veteran employees — she's been at Advanced Skin and Body Solutions for over 13 years! In her time, she has seen the company grow from a small operation into a top-rated medispa in the nation. Danielle is the glue that holds ASBS together with hard work, admin leadership and stellar client service.
After Danielle received her MBA, she spent time in Boston working in Human Resources. She later switched career paths (to finance), and moved to the Seattle area. That was 17 years ago, and she's been here ever since. Her background helps her handle the many administrative tasks that come as a bookkeeper. She's a fantastic resource for all Advanced Skin and Body Solutions employees.
Danielle loves many things about her job, but first and foremost, she appreciates her coworkers. Our expert team truly feels like a family. Outside of work, she loves to exercise, travel, and spend time with her four wonderful kids and husband.