We're always on the cutting edge of aesthetic treatments at Advanced Skin and Body in Bellevue. Have you heard of CoolSculpting ELITE? It's the next evolution in fat freezing technology. Here are 5 reasons why CoolSculpting ELITE is just better.

While the older, Legacy CoolSculpting devices worked great, there's always room to improve. One notable addition is another applicator per machine. Each ELITE machine now has two applicators that can run simultaneously. This allows our practice to offer QuadSculpting and DualSculpting in Bellevue!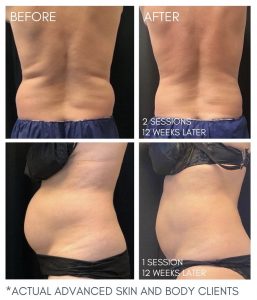 What is DualSculpting?
DualSculpting is when we sculpt two "non-overlapping" trouble areas for a client. Clients love DualSculpting at Advanced Skin and Body! Common combinations include: abs and flanks, arms and thighs, chest and neck (submental fat), and many more. 
It's important that these areas are non-overlapping so we can target the exact amount of fat without causing skin damage. CoolSculpting is scientifically tested to work in short, 35 minute treatments per area. That's how long it takes to freeze fat.
We previously DualSculpted two "trouble areas" for clients by wheeling in two Legacy machines to the same room. While very effective, it wasn't space efficient…
Now we simply need one CoolSculpting ELITE machine to do the job. Two fat treatment areas, 35 minutes, then we often switch them out for other areas. It's no wonder why so many clients CoolSculpt in Bellevue on their lunch breaks, as procedures are quick and easy.
What about QuadSculpting?
Here's something we couldn't do before: QuadSculpting. Before, we couldn't easily wheel four Legacy machines into one treatment room, but now we only need two ELITE machines to treat four areas. 
If clients want to CoolSculpt four areas, we can do so in record time. This is efficient for our patients, especially those with more fat to freeze. We often hear from clients with 4+ trouble areas (which can be stressful for them), and it's great to help them quickly and more effectively than ever.
We still set patients up with Netflix to relax and lounge, of course, but sessions fly by faster with the new ELITE devices.
How is CoolSculpting ELITE freezing, so far?
New technology can often come with challenges, but not with ELITE. It's a vast improvement over the Legacy devices. Clients are noticing fat loss results in 5+ weeks (perhaps a bit sooner), and our CoolSculpting technicians are feeling that fat is much more frozen; When they remove the cold applicators to massage fat, it's harder to the touch. This means a higher percentage of fat cells are killed with ELITE.
ELITE CoolSculpting "tissue draw" is better too, covering ~18% more skin surface. Tissue draw is how much fat gets pulled into the applicator. More draw means a better treatment for your money. This is why ELITE-frozen fat feels different – it's penetrating deeper into your fat.
Any side effects?
ELITE side effects are nothing clients aren't already used to. CoolSculpting can cause mild discomfort when we massage your frozen fat, and some post treatment itching and numbness. But it's an easy procedure. That's part of why it became a national sensation.
The great news? ELITE is the same. Clients have not commented on any worse side effects or sensations, though the treatment is even stronger. They've been thrilled with the results. We love to explain CoolSculpting technology and describe the new applicators to our clients. 
As the nation's top CoolSculpting provider, we were 1st on the West Coast to receive ELITE machines! If you're at all interested in fat freezing, make sure you select a medispa that offers ELITE. It's stronger and more effective. Why get the old iPhone after the new one comes out, right?
We're available to answer any questions or book you a free virtual consultation, just text us: (425) 643-5772. Thank you.