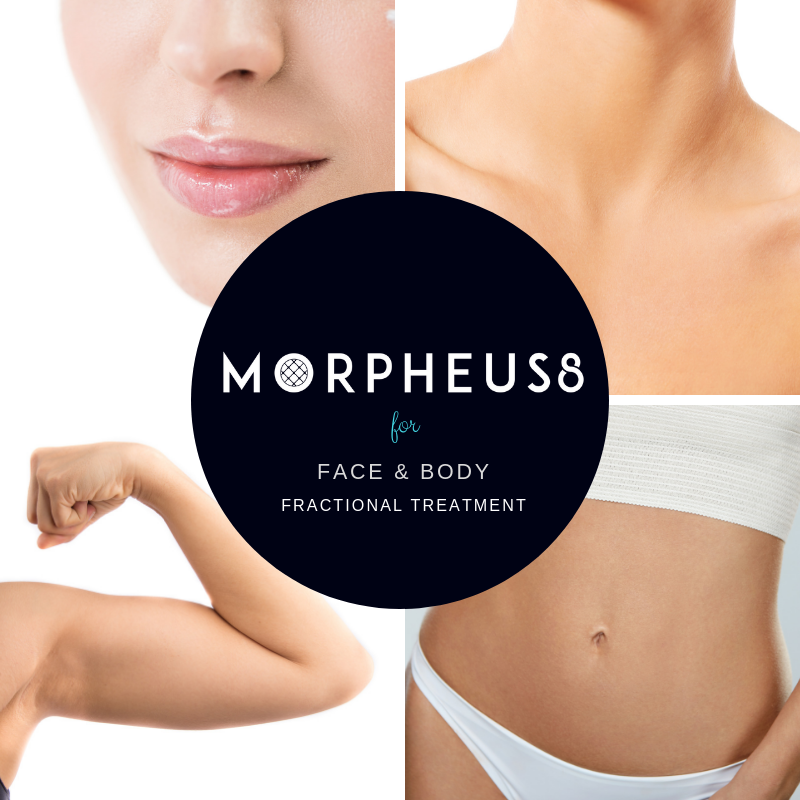 Morpheus8: Skin Tightening
Morpheus8 is a revolutionary device which re-shapes adipose tissue as well as tightens and contours the body and face. It uses "micro-pins" to target and heat deep skin layers w/ fractional "RF" (radio frequency) energy. This boosts natural collagen production for a more radiant, youthful appearance. It treats wrinkles, loose skin, stretch marks and acne scars. Now offering Morpheus8 consultations at Advanced Skin and Body.
How Does Morpheus8® Work?
Morpheus8 applies fractional "RF" energy through a "micro-pin matrix" – on the face and body. Our consultations for skin tightening in Bellevue involve identifying your areas of concern (sagging skin, wrinkles, etc.). The device penetrates up to 5mm deep, triggering collagen and elastin production. These proteins help to reduce signs of aging in everyone. Depending on the area(s), treatments typically take between 30-60 minutes at Advanced Skin and Body Solutions.
What Areas Can I Treat?
Many areas can benefit from Morpheus8, including full face, around eyes, neck, abdomen, back, glutes and thighs. Essentially any body area showing wrinkles, loose skin, acne scars or loss of volume. Just let us know your concerns and we'll accommodate your needs.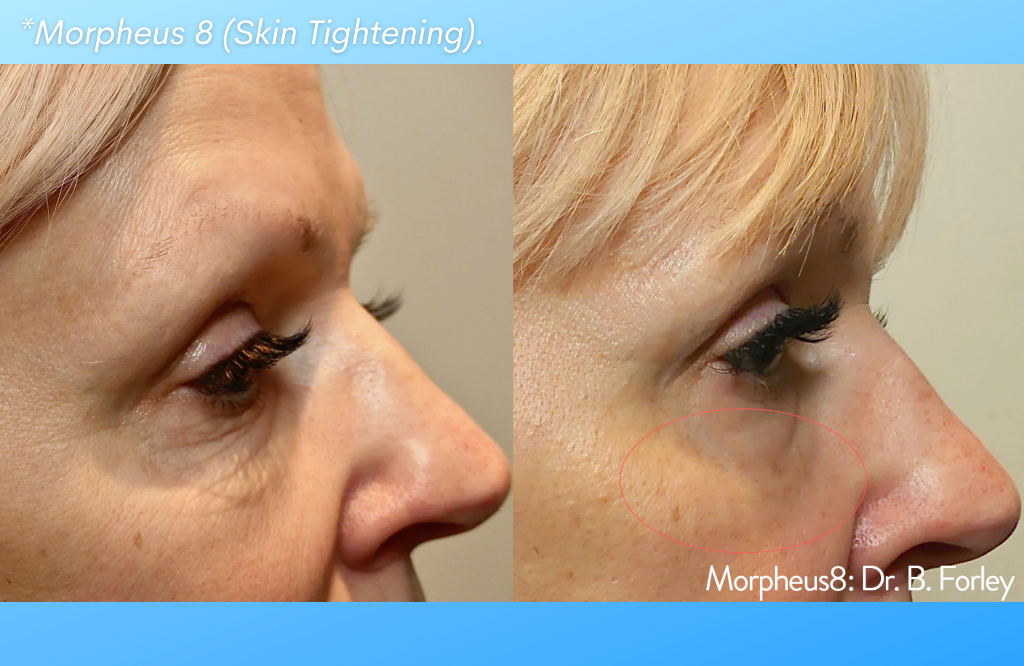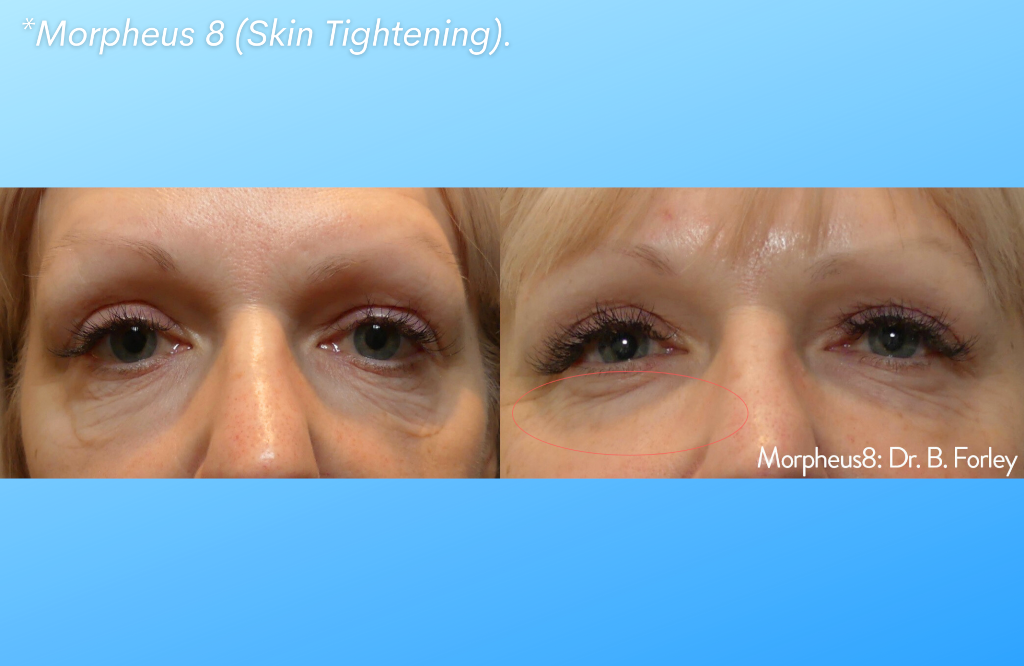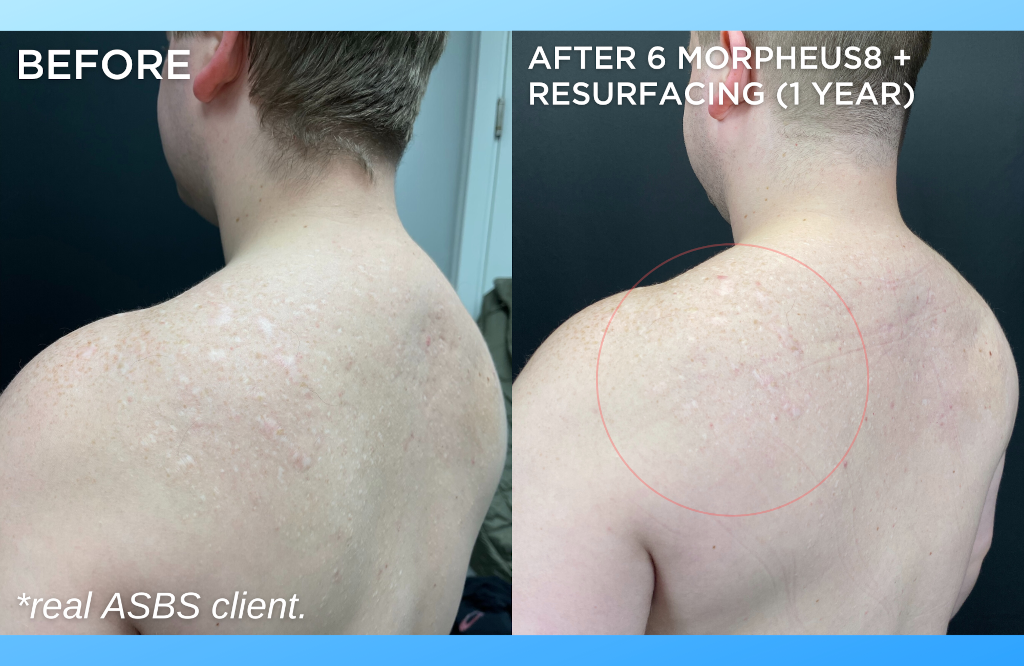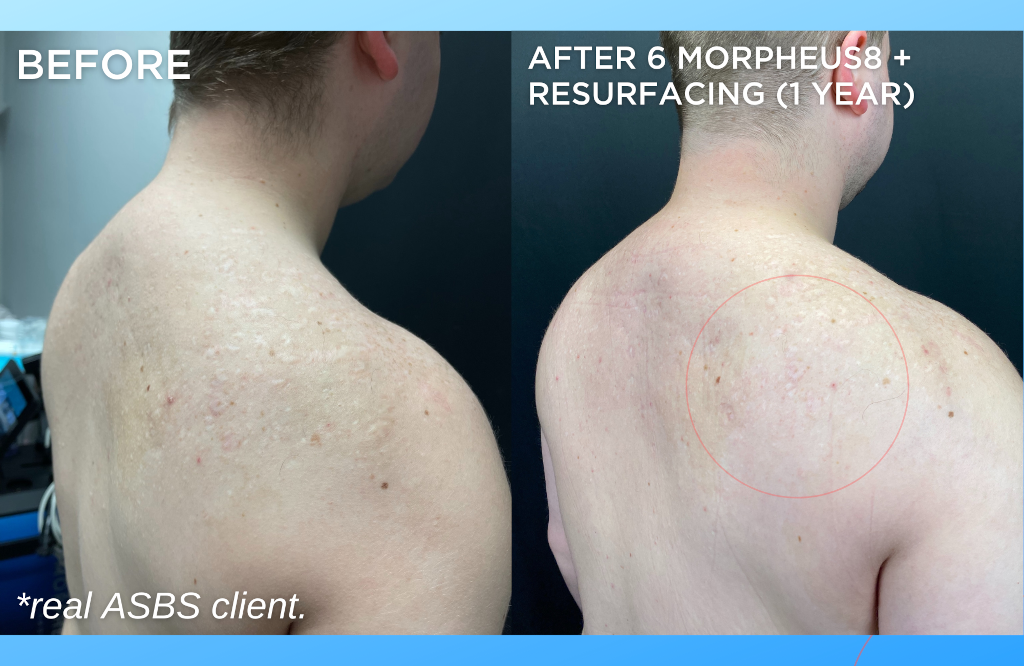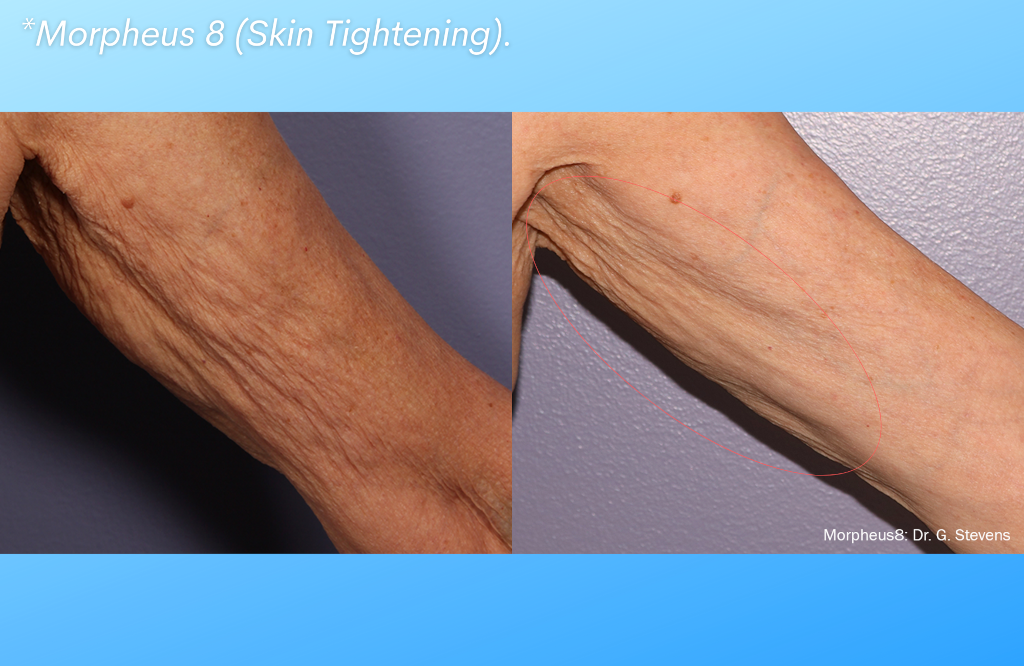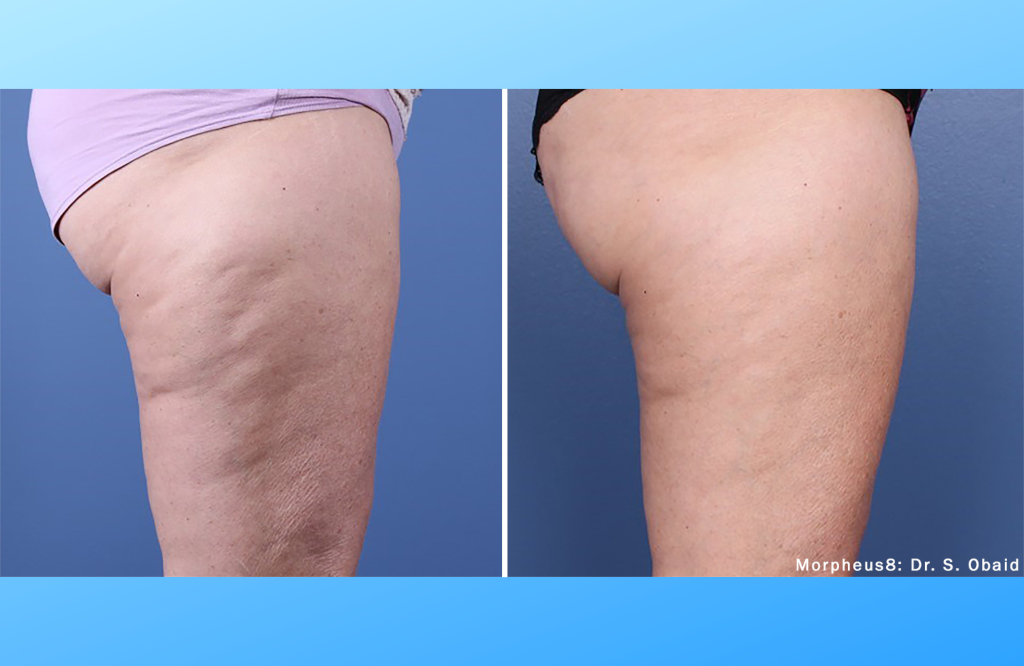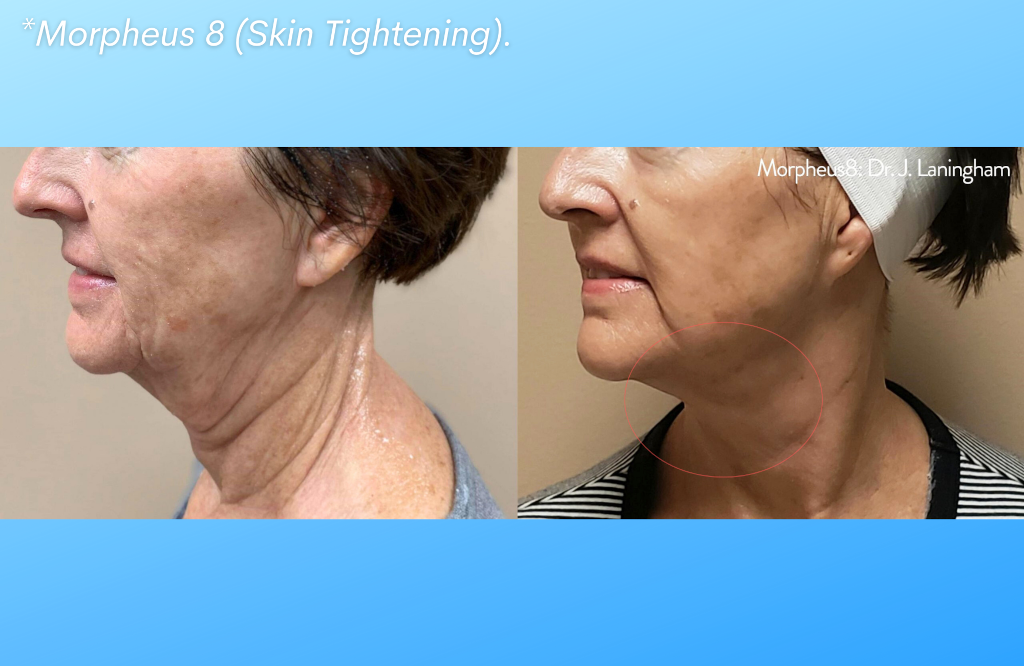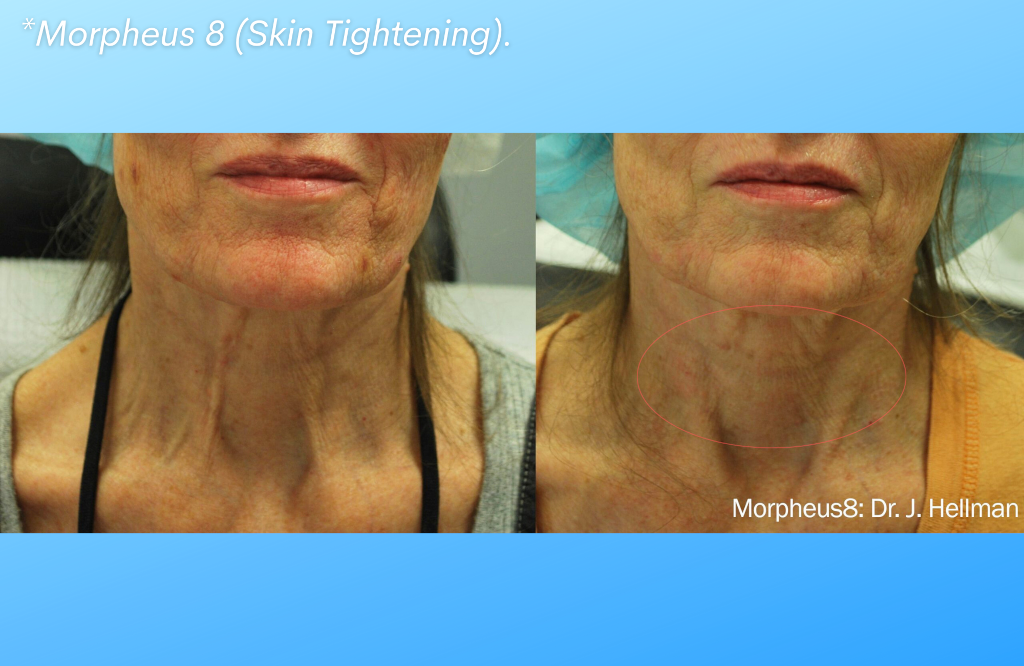 What Are the Results?
Tightens skin
Smooths wrinkles
Smooths stretch marks
Corrects acne scars
Boosts collagen + elastin
Increased volume
More youthful look
How Quickly Do Results Show?
While you may see some skin benefits after a few days, 3+ weeks is when noticeable results appear. Full results set in at 3-4 months (w/ several Morpheus8 treatments). Your skin will look smoother and younger after skin tightening in Bellevue.
How Many Morpheus8 Treatments Are Needed?
Morpheus8 is not a "one and done" treatment. Our Master Estheticians will work with you to form a treatment plan during a consultation. It depends on your skin, but you can expect 3+ Morpheus8 treatments for lasting results. Collagen starts to repair within 2 weeks, but it can take 3-4 months and 3+ treatments to create new collagen. There are many factors that will determine how long results will last (such as age, skin type, genetics, lifestyle) but expect to return within 12 to 18 months for a maintenance treatment.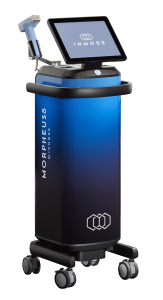 How Does It Kill Fat?
Morpheus8 kills fat cells with its micro-pin matrix in treated areas, leading to a slimmer appearance. The process is twofold: pins physically burst cells (like a microscopic balloon) and 'RF' energy kills more fat; it is flushed through your lymphatic system. You are left with less fat and enhanced collagen.
Is There Down Time?
After your Morpheus8 Skin Tightening, it is normal to feel slightly "sunburned" for a few hours post treatment, and to appear pink for 1-3 days post treatment. Makeup can be applied 1-2 days after treatment. We recommend that patients continue to avoid products containing retinol / acids / exfoliating agents while healing, to use SPF to protect their skin, and avoid sun exposure. We will discuss this during your Morpheus8 consultation.
Any Discomfort w/ Morpheus8?
It's possible that you will feel some discomfort during Morpheus8, however, we apply a topical numbing cream to the treated area(s) before, and we offer Pro-Nox™ relaxing gas for additional comfort on request. We make it as comfortable of a process as possible. Let us know if you're interested in using Pro-Nox during your treatment.
Who Isn't a Candidate?
Good news: Morpheus8 works on natural collagen and elastin production, meaning its technology applies to everyone. All ethnicities and skin colors can benefit from skin tightening in Bellevue, however, it is possible that your Esthetician will have you pre-treat using a topical pigment inhibitor (depending on skin type) prior to treatment.
How Is "RF" Different Than Microneedling?
Standard microneedling only targets the superficial (upper) skin layer, and does not apply heat. Morpheus8 uses heat energy through gold plated, insulated pins w/ custom depth and temperature to stimulate new collagen, repair damage, break up scar tissue, destroy fat and more. It's more powerful and cutting-edge.
When Should I Get Morpheus8 Vs. Evoke (Facial Contour)?
At Advanced Skin and Body Solutions, we also offer Evoke radiofrequency skin tightening treatments, which uses a targeted headset for facial slimming; Evoke contours the face, jawline and chin. So, when should you get Morpheus8 vs. Evoke? Generally, Evoke is for clients who have less of a correction to achieve (fewer signs of aging), and want immediate results. As a shorter, easy treatment, Evoke can also be used to maintain your facial slimming results over time with quick follow-ups. Morpheus8 can be used all over the body, and penetrates deeper skin layers for maximum healing and benefits.

Pro-Nox™: Client Comfort
Pro-Nox™ helps clients who are prone to discomfort or anxiety during treatment. It's a combination of Nitrous Oxide and Oxygen (N20) which clients self-administer. It feels like "relaxing gas" at the dentist. Pro-Nox adds no extra treatment time while it relieves discomfort. It acts fast and dissipates quickly from the body. We only ask that clients wait 20 minutes after treatment before operating a vehicle.
Our Pro-Nox add-on cost is $75 / Treatment.
Over 4,000 medical practices in the U.S. and Canada use Pro-Nox (it's the most-requested anxiety solution). Contact us for a complimentary consultation.