[av_textblock size=" font_color=" color="]
Spring is beginning to settle and we can tell because we have already started seeing some flowers appear. The Spring Radiance Facial at Advanced Skin and Body Solutions is utilizing our favorite part about Spring by combining fruits and flowers to take you back to times of warm, ocean side breezes and ultimately, take back the years.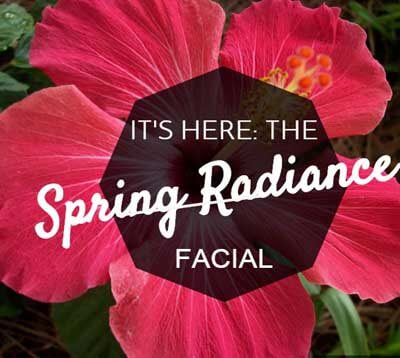 [/av_textblock]
[av_one_full first min_height=" vertical_alignment=" space=" custom_margin=" margin='0px' padding='0px' border=" border_color=" radius='0px' background_color=" src=" background_position='top left' background_repeat='no-repeat' animation="]
[av_textblock size=" font_color=" color="]
The pineapple used in our facial is formulated with moisturizing lactic acid and best of all, pineapple is known for containing digestive and skin softening enzymes that improve skin elasticity, skin hydration, and is effective at removing dead cells. The result is a clear, glowing complexion, perfect for the Spring and the upcoming Summer months. Now that there is more sunlight in our days, it's important to note how much damage that can cause to our skin complexion by increasing the development of age spots. The pineapple in our Spring Radiance Facial is also a fighter against age spots and can help reduce them and fine lines.
The Hibiscus flower makes an appearance in this tantalizing facial. The flower acids offer a greater moisturizing feature than the lactic acid alone. This makes the facial ideal for all skin types and often leaves the skin effective at stimulating collagen activity. For lasting results, the added Hibiscus provides antioxidants for radiant skin that lasts longer. We weren't kidding when we said we could take back a couple of years, either. The Hibiscus flower is commonly known as the "Botox Plant," as it is powerful in increasing skin elasticity and naturally firms and lifts your skin.
Now think of all those wonderful things being massaged onto your skin as you sit back, relax, and prepare to wake up to a rejuvenated, radiant, and youthful you. We suppose it may also be safe to say Spring Break isn't entirely over.
[/av_textblock]
[/av_one_full]
[av_one_full first min_height=" vertical_alignment=" space=" custom_margin=" margin='0px' padding='0px' border=" border_color=" radius='0px' background_color=" src=" background_position='top left' background_repeat='no-repeat' animation="]
[av_button_big label='Book Your Facial Now' description_pos='below' link='manually,http://23.25.143.117/onlinebooking2/#/' link_target='_blank' icon_select='yes-left-icon' icon='ue885′ font='entypo-fontello' custom_font='#ffffff' color='theme-color' custom_bg='#444444′ color_hover='green' custom_bg_hover='#444444′][/av_button_big]
[/av_one_full]