In today's fast-paced world, self-care often takes a backseat to our busy lives. Sound about right? We are ALWAYS on the go, but why can't we stop and do something for ourselves? Well if you're looking for a sign to treat yourself, THIS IS IT.
There's a relaxing, rejuvenating treatment that takes less than an hour and can do wonders for your skin and overall well-being: facials.
Beyond the luxurious spa experience they offer, facials provide a multitude of benefits that go far beyond mere pampering. From enhancing your skin's radiance and, keeping acne at bay to promoting relaxation and stress relief, this blog will delve into the infinite advantages of indulging in facials.
Join us on a journey to discover the top 3 reasons why your next facial should be at ASBS and learn that they are more than just an occasional treat—they're an investment in your health and beauty.
A Treatment For Everyone & Every Occasion
Whether you have dry skin, oily skin, combination or acne prone, there is a revitalizing and renewing treatment available here at Advanced Skin & Body Solutions.
Going to the beach? Getting ready for a wedding? Hitting the town for a fun weekend? We've got just the facial to help you bring out your natural glow and beautiful skin!
We offer a full range of clinical facials with lots to choose from including:
Clear Skin Enhanced
Pore Cleanser
The Gentleman's Facial (Men deserve awesome skin too!)
Teen Facials – Teach them the importance of skincare at a young age!
HydraFacial MD – This treatment uses the award-winning VortexFusion technology™ to cleanse, peel, extract, hydrate, infuse, and protect.
Along with our signature facial treatments, our amazing technicians can create a customized facial that targets your specific skin care needs!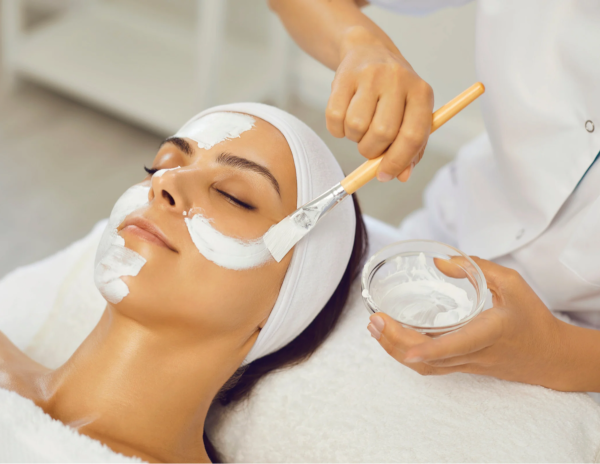 Peels With Purpose
If you're needing a more in-depth treatment, our medical grade chemical peels are exactly what you're looking for!
Peels use a chemical solution that helps diminish the appearance of fine lines and wrinkles, improve skin texture, and reduce the look of age spots and sun damage.
Options for Chemical Peels include:
Vitalize Peel
Rejuvenize Peel
Brightening Peel
Advanced Corrective Peel
A Break With Benefits
Remember what we said in the beginning about selfcare taking a back seat? Well buckle up because it's YOUR turn to be the passenger princess and let our Aesthetic Technicians drive you to the skincare destination of your dreams.
Relaxing is a hard thing to do. So why not give yourself a break by giving your skin some well-deserved love.
Not only do facials help with your physical appearance they also have numerous benefits for your well-being.
Facials are a calming experience that help reduce stress, encourage facial and shoulder muscle relaxation (this is your cue to relax your eyebrows and lower your shoulders).
You won't just feel like you got a skincare treatment, you'll also feel completely replenished mentally!
Need a midweek pick me up? Schedule a facial 😉

There Are Endless Reasons Your Next Facial Should Be At ASBS
Even though we highlighted 3 key reasons to get a facial, there are so many more.
Scheduling your facials at ASBS are easy and affordable with our financing plans!
We also offer a plethora of other skin and aesthetic treatments including, Botox, dermal fillers, CoolSculpting for women AND men, Microneedling, and much more.
Call us today or book your appointment online!