Body sculpting in Bellevue is more than a "modern trend": it's a scientifically-proven practice which can involve a variety of aesthetic treatments: from CoolSculpting to Emsculpt NEO to NuEra Skin Tight. It's all about combining results to reduce fat trouble areas, increase muscle tone and boost natural collagen production. There's a lot to take in when you're handed a medical spa brochure about treatments, so we want to take time breaking them down…
"How Does CoolSculpting Help?"
We've said it before and we'll say it a thousand times: CoolSculpting can work wonders for the right candidates seeking fat reduction! It uses a process called "cryolipolysis" to freeze and kill fat cells on clients' stomachs, glutes, abs, arms, legs, and more. An ideal candidate is close enough to their ideal weight but still has trouble areas they'd like to treat. You'll start seeing results 5+ weeks after fat freezing, with full results after 3 months.
CoolSculpting doesn't make you lose weight; instead, it reduces fat deposits in areas you'll notice most. If you eat more immediately after treatment, you will still gain weight. However, you'll gain less fat in your treated area due to its smaller concentration of fat cells.
How does this relate to "body sculpting"? CoolSculpting might just be Advanced Skin and Body Solutions' biggest and best weapon against natural aging as our bodies turn muscle into fat over time. For the right candidates, CoolSculpting can reveal your body's truly beautiful shape!
"What About Emsculpt NEO?"
Body sculpting in Bellevue at ASBS often requires a multi-level approach. When CoolSculpting fat freezing isn't enough, we recommend Emsculpt NEO: Muscle Toning: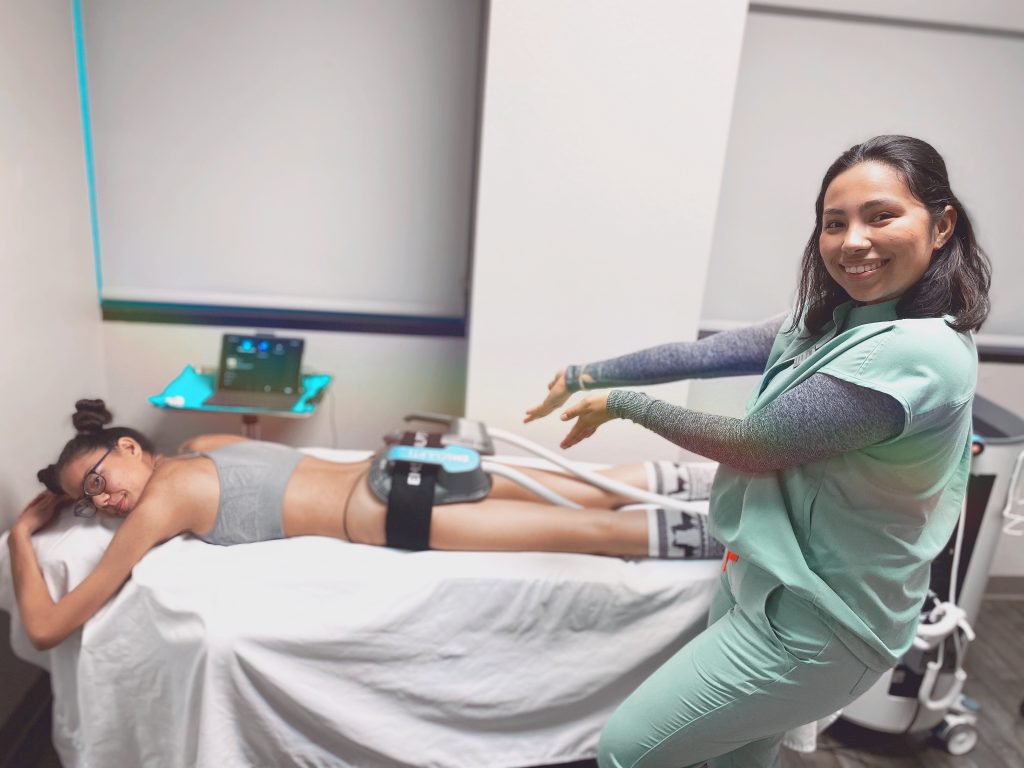 Using HIFEM+ and radiofrequency energy, the device "flexes" muscles for you, like a gym workout (for a 30-min treatment). No sweat, no fuss, just contracting muscles in body areas that matter most: glutes, abs, legs, arms, etc. Your body then builds its own natural muscle. The "NEO" piece refers to radiofrequency warming your muscles to burn fat and cause deeper contractions.
Does Emsculpt help body sculpting goals? Absolutely! Clients with lower body fat (naturally or with CoolSculpting) can get an hourglass figure with help from Emsculpt NEO. Glutes and legs are great areas to treat. Men can also achieve that "upside down V"-shaped body that many people desire. Our Cool Team Specialists for body sculpting in Bellevue know the best areas to recommend.
"How is NuEra Skin Tight Different?"
Over the years, our skin naturally loosens and becomes dimpled. While CoolSculpting and Emsculpt deal with fat and muscle, NuEra Skin Tight improves skin elasticity and texture. It's a temperature-controlled radiofrequency system that addresses lumpy or loose skin. NuEra is non-invasive, without any harsh chemicals, and gives skin that taut look that many clients desire!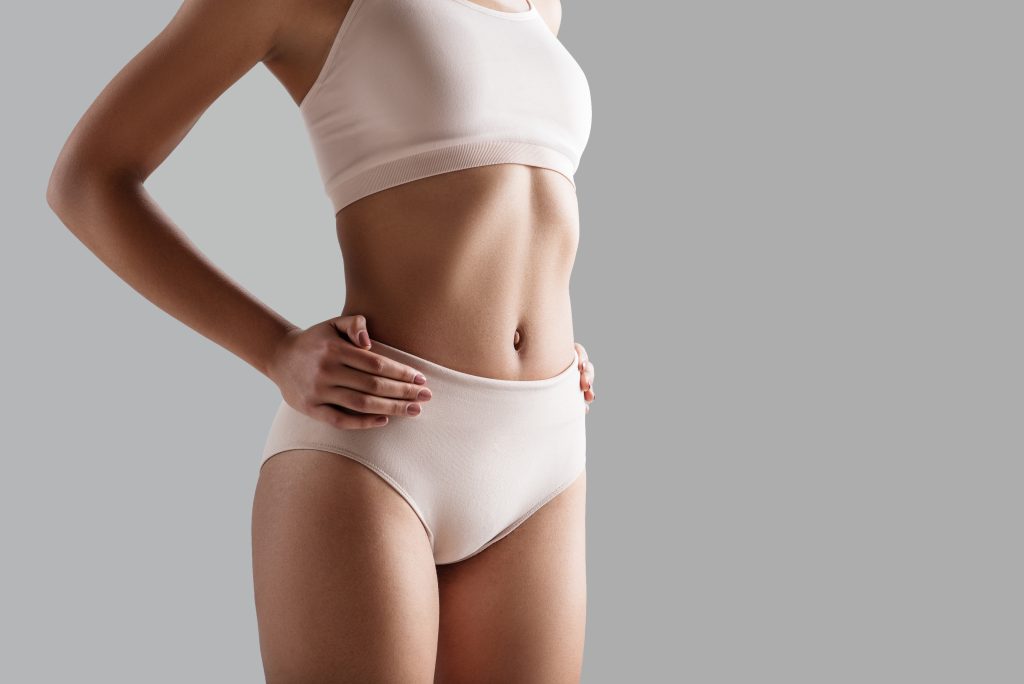 NuEra uses 470kHz frequencies to gently heat skin to levels which produce new collagen; collagen helps skin laxity, reduces cellulite and general skin "unevenness". Treatments take 10-15 minutes for the face and 20-25 minutes for other areas: including arms, bra and back fat, around the eyes, neck, mouth or cheeks.
Does NuEra sculpt your body at all? It certainly does, but maybe not how you think. As it improves skin tightness, your fat areas will seem even less noticeable while your muscle tone really "pops". It can reveal body results that you may not have noticed or appreciated before. Skin texture and tightness is an important piece of true "body sculpting". It's a wonder what collagen production can do for our skin!
We make the most out of CoolSculpting, Emsculpt and NuEra at Advanced Skin and Body Solutions. Body sculpting in Bellevue has caught on as a major aesthetics practice. Our Cool Team is proud to have transformed the lives of hundreds upon hundreds of clients!
We offer FREE CONSULTATIONS for treatments. You can also call or text our team at (425) 643-5772 and we're happy to assist you. 📲
Thanks for reading!