Vollure™ XC: The Newest Juvéderm Filler Solution
VOLLURE™ XC joins VOLBELLA® and VOLUMA® in providing longer lasting solutions for wrinkles, lines, and lost volume.
Benefits of Juvéderm Vollure XC™
Over time skin loses it's elasticity, leaving unwanted lines and wrinkles. Dermal fillers may not repair the cause of wrinkles but they can improve the appearance of aged skin.
VOLLURE™ XC is intended for smoothing moderate to severe parentheses wrinkles and lines. It is also used for marionette and corner lines. A softer and smoother appearance is achieved by adding filler to specific facial tissues, adding volume to those areas. By adding volume, the skin will appear tighter and improve your overall look.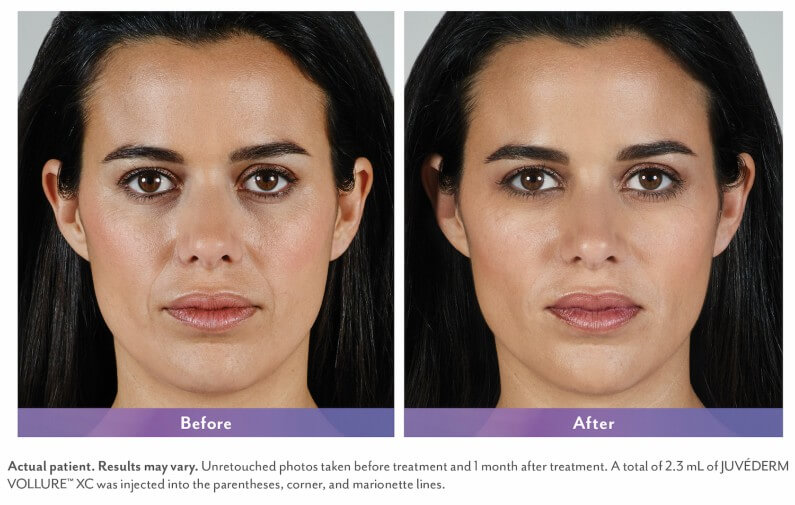 *Individual Results May Vary
How is Juvéderm Vollure™ XC's filler different from other fillers?
Similar to VOLBELLA® and VOLUMA®, VOLLURE™ XC uses Vycross technology. This new, proprietary technology is a mixture that improves on the traditional dermal filler's crosslinking process.
Traditional hyaluronic acid (HA) dermal fillers utilize a majority of high molecular weight HA. Vycross differs in that the proprietary mixture is a majority of low molecular weight HA and some high molecular weight HA. The addition of butanediol diglycidyl ether (BDDE) helps stabilize the crosslinking between HA chains, strengthening the overall crosslinking between HA chains. The tighter HA network and how the Vycross technology absorbs less water allows for reduced swelling after the procedure. This Vycross collection of products is believed to be easier to inject, leading to less pain and bruising. These fillers are also believed to look more natural, granting greater versatility for their use. The best part about the Vycross technology? It lets your dermal filler last up to 12-18 months.
Familiar with our Points Program?
With Brilliant Distinctions Program, we're providing you with the same skilled procedures and high-quality, brand name products while saving you money. Click HERE to learn more!