Aging is inevitable. Our skin and bodies often take the brunt of it. While we do not have the technology to stop aging, we can do things to minimize its effect on our appearance. Look no further than Advanced Skin and Body Solutions for your Bellevue skin tightening needs! We have great options for skin tightening with the revolutionary technology of Morpheus8 (which contours and tightens the face and body).
Time, genetics, environmental factors, and lifestyle can impact the quality of collagen and elastin. Morpheus8 enhances your skin and builds collagen and elastin proteins to leave you feeling (and looking) like a younger, more radiant version of yourself.
What is Morpheus8 Skin Tightening?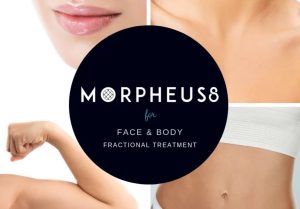 Morpheus8 is a device that uses radiofrequency "RF" energy to create healthier and younger-looking skin on the face and body by promoting the production of collagen and elastin. RF energy is scientifically proven to rebuild and repair the collagen that the body naturally loses throughout life.
Our Bellevue skin tightening treatment at ASBS is a minimally invasive procedure using micro-pins to target deeper layers of the skin. The technology of Morpheus8 prompts the remodeling of tissue and tightens your skin from within. It does not damage the skin's surface at all. While it may feel "strange" to newcomers, we offer numbing cream and Pro-Nox relaxing gas if desired.
Combined with the RF energy, Morpheus8 delivers amazing results. Unlike standard microneedling, the device can penetrate up to 5mm deep into the dermis and apply heat for very powerful results.
Morpheus8 technology treats wrinkles, loss of volume, loose skin, and uneven pigmentation, as well as stretch marks and acne scars. It can be beneficial to have the treatment in multiple areas of the body, including around the eyes, face, neck, abdomen, back, glutes, and thighs.
Unlike with some surgical procedures, anyone can benefit from and partake in Morpheus8 treatments. Keep in mind that everyone is different, and results can vary from one client to the next.
Our Master Estheticians will work with you to customize your treatment plan for optimal results!
What Can I Expect During and After Morpheus8 Treatments?
Treatments usually take between 30-60 minutes. Many clients often feel little to no discomfort as we apply a topical numbing cream to the treatment area(s) before the procedure. We offer Pro-Nox™ relaxing gas on request for clients who are more prone to discomfort. Our primary goal is to keep you comfortable during treatment!
Expect to see a slightly sunburned look after Morpheus8 treatments with your skin appearing slightly red and tender. You might notice micro lesions appearing a few days after your treatment, but keep in mind this is completely normal and will pass shortly after. As the treatment is minimally invasive, there is little to no downtime. Be sure to keep your treatment area(s) moisturized and avoid direct exposure to the sun. 
If you have any concerns after your treatment, please reach out to us.
How Many Treatments Will I Need?
Typically, most clients will undergo 3+ treatments. Morpheus8 at our medspa in Bellevue delivers long-lasting results, however, as skin continues to age, further treatments may be required. Expect to return within 12 to 18 months for maintenance treatments.
When Will I See Results? 
Morpheus8 at ASBS gives remarkable results! It delivers initial results after one treatment with noticeable results appearing in 3+ weeks. After multiple skin tightening treatments in Bellevue, further results will appear in only 3-4 months. That's a great timeline to help you achieve your skin goals.
What Are the Next Steps?
You deserve to feel and look like the best version of yourself. We would love to see you at Advanced Skin and Body Solutions in Bellevue for a skin-tightening consultation. During your consultation, our amazing Master Estheticians will work with you to determine your individual goals and areas of concern.
We believe in providing our clients with a high-quality experience and care before, during, and after their visits to our spa.
If you have questions or would like to schedule a consultation for Morpheus8, please contact us at 425-643-5772!