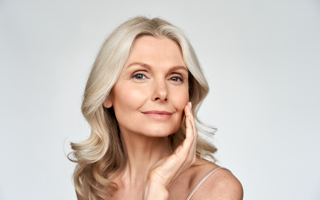 If you're looking for a way to tighten your skin, boost collagen production, contour your body and have a more youthful appearance, you have found it with the Morpheus8 and Evoke treatments!
As we age we lose the ability to "bounce back" when it comes to our skin. Our collagen production slows down and that's how we get the sagging skin under our eyes, chin, knees and more.
It's no secret that this is not something people want, so revolutionary treatments like Morpheus8 and Evoke have come storming through the industry and providing people with the results they're looking for.
But how do you know which treatment is right for you? We've got it all broken down here in this article! So keep reading if you're interested in learning the differences between the Evoke vs. Morpheus8 treatments.
Technology
When it comes to looking at how the Evoke vs. Morpheus8 treatments work, you'll find that they are both, in fact, skin tightening and contouring treatments that utilize RF (Radiofrequency), but the way it's used is vastly different.
Morpheus8 uses fractional RF energy and harnesses it through a micro-pin matrix which allows the RF to penetrate deeper into the skin triggering collagen and elastin production.
Read our most recent article about the Benefits Of RF Microneedling!
Evoke uses RF technology through a hands-free, non-invasive device that the user actually wears around their face or neck. The Evoke technology also uses AI to precisely target and heat the areas of the skin.

Process
The biggest difference between the two treatments is possibly the process.
The Morpheus8 handheld device is controlled by a master esthetician and is able to treat the face, abdomen, neck, glutes, back and thighs.
Because it uses micro-pins, it is considered a minimally-invasive treatment. It takes anywhere from 30-60 minutes. Some clients say they feel slight discomfort, but a topical numbing treatment is applied to help ease that sensation.
There is no downtime with the Morpheus8 treatment, but you may feel like you have a slight sunburn for up to 3 days after the treatment. Makeup is not recommended for 48 hours.
The Evoke technology uses a hands-free device that is strapped onto the user's face or neck and feels comparable to a hot stone massage. It's a quick process that lasts about 30 minutes and clients can sit up and use their phones during the treatment. There is no downtime after this treatment.
It's important to note that these are both not "one and done" treatments. Depending on your needs your master esthetician will develop a treatment plan to ensure you get the optimal results.
Results
Depending on what kind of results you're looking to achieve will help you decide which treatment is better for you when it comes to Evoke vs. Morpheus8 treatments.
The Morpheus8 is a more in-depth treatment that works on different parts of the body and helps to not only improve skin laxity and boost collagen production, it also helps to:
Smooth wrinkles and stretch marks
Correct acne scars
Increase the volume of the face
Improve skin texture
The Evoke treatment is for people who have less severe sagging and wrinkled skin who are looking for a quick way to re-contour their face and bring back their youthful look!
Want To Know More About The Differences Between The Evoke Vs. Morpheus8 Treatments? See Advanced Skin And Body Solutions.
If you're looking for a skin tightening and contouring treatment that leaves you feeling youthful and confident, these treatments are for you! Let our master estheticians at our Bellevue medspa help you find the perfect treatment plan for your needs.
We offer a variety of non-surgical aesthetic, body-sculpting and cosmetic treatments to help you look and feel your best.
Contact us today to schedule a free consultation!