Do you have areas of stubborn fat that simply will not vanish, no matter what you try? CoolSculpting ELITE at Advanced Skin & Body Solutions in Bellevue, WA may be the ideal solution for you! Curious if you are a candidate for treatment, or just want to gather some more information? Get in touch with our CoolSculpting Specialists to schedule a FREE consultation today! In the meantime, keep reading to learn more about what CoolSculpting ELITE is and what a consultation entails…
What is CoolSculpting ELITE?
If you have spent any time looking into medical weight loss solutions or slimming and trimming options, you may already be familiar with CoolSculpting. In case you are not, CoolSculpting is a popular, results-oriented, body-slimming, non-surgical fat reduction treatment that freezes fat cells to improve areas of concerns of unwanted, stubborn fat that isn't resolved by diet and exercise. This non-invasive treatment targets and cools the layer of fat under the skin, without discomfort or harmful side effects with the help of CoolSculpting's controlled medical device.
CoolSculpting ELITE at Advanced Skin & Body Solutions takes this revolutionary fat reduction treatment to the next level, however. This advanced level of CoolSculpting allows for DualSculpting to QuadSculpting, freezes fat more effectively, and more surface area coverage. As if CoolSculpting could get any better… but it did!
What Do Free Consultations Involve?
Are you convinced to give CoolSculpting ELITE a try? If you want to check your candidacy, or if you are still on the fence, Advanced Skin & Body Solutions offers free consultations! Take a look at what these consults involve.
Meet with Our "Cool Team"
When you arrive for your free consultation, you will meet with one of our CoolSculpting Specialists. These experts are ready and able to answer any questions you have about the process and determine if you are an eligible candidate.
Take a Look at Before & After Photos
One of our specialists will show you before and after photos of previous CoolSculpting ELITE clients, giving you an idea of what your results may look like as well!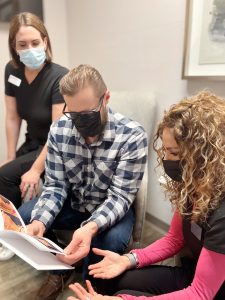 Address Trouble Areas
We will discuss what areas you are most concerned with, including what is troubling you about those spots and what you would like to see as a result.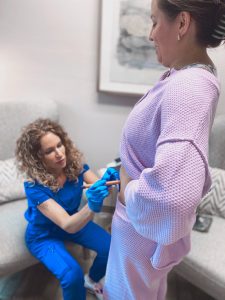 Form a Custom Treatment Plan (how many cycles)
Your CoolSculpting Specialist will walk you through your treatment plan, ensuring that you are aware of how many cycles are being recommended and how long it should take to see results.
Specials, Same-Day Treatment, & Time-Saving Tricks!
During your free consultation, we will also go over any current specials or deals that are running, get you scheduled for a same-day treatment if available, and discuss how you can save time and address more areas with DualSculpting or QuadSculpting!
Virtual Consultations Available
For your convenience and comfort, Advanced Skin & Body Solutions in Bellevue, WA also offers virtual consultations via Zoom video calls. This option is ideal for those who want to save time and commute expenses, or are more comfortable limiting in-person appointments.
CoolSculpting ELITE with Advanced Skin & Body Solutions
Are you interested in pursuing CoolSculpting ELITE for yourself? Get in touch with our team of experts and schedule your FREE consultation today!