Whether you're researching how to start a healthy lifestyle and fat reduction routine at home or thinking about trying CoolSculpting, a leading non-surgical fat reduction treatment, you've probably arrived at this article because you'd like to look and feel better. Congratulations! Doing your research is an important initial step towards positive change. You're in the right place.
About Advanced Skin and Body Solutions
Advanced Skin and Body Solutions is a medical spa in Bellevue, WA.  We're the #1 locally-owned CoolSculpting facility in the state and a leading provider of CoolSculpting in the nation. Having performed over 6,000 CoolSculpting treatments (at the time of writing this), we've talked to a lot of clients about fat reduction, body image, health, and fitness. We have some helpful tips to share about all of it.
First and foremost, we believe that life is too short for negative body thoughts. How you feel about yourself impacts the way you think, feel, behave, and even treat others. Our mission is to help men and women look and feel their best, and we believe that CoolSculpting is among the best ways to help many people achieve that goal (freezing away stubborn fat – permanently – with no downtime is pretty amazing).
CoolSculpting Versus a Healthy Lifestyle
That being said, CoolSculpting does not and should not replace a healthy lifestyle. Yes, it slims your physique (it can do the chin, arms, abdomen, back, butt, and more) and boosts your confidence. However, health, wellness, and fitness also have a big impact on your quality of life in the short and long-term. It's always a good idea to work on your health – whether you're just thinking about CoolSculpting or taking the plunge.
Implementing a Healthy Lifestyle and Fat Reduction Routine at Home
We find that most people appreciate tips on how to create a healthy lifestyle and fat reduction routine at home so they can implement a holistic look-and-feel-better plan. That's why we put together a list of thoughtful suggestions. These suggestions represent a wealth of advice from studies, what works for our team members, and our community at large.
Cultivate a healthy relationship with yourself. You can't really have a healthy lifestyle and fat reduction routine at home when you don't have a healthy relationship with yourself. You are so much more than a number on a scale, and we never want you to forget that. Instead of focusing on your weight, focus on your qualities, developing a positive attitude, maintaining a good mood, and appreciating everything your body does for you. Many people find that meditation first thing in the morning is a good way to cultivate this healthy relationship. As soon as you get up every day, spend a couple minutes in a quiet space to mediate on a mantra (a positive statement). If meditation isn't for you, you may want to try a gratitude practice. This is a about taking a few minutes, maybe before bed, to think about what you're grateful for. Alternatively, some people also find that journaling about their relationship with themselves is helpful.
Improve your nutrition. Even though we have access to fresh produce and other nutritious foods year-round, many Americans eat poorly. There are all kinds of trendy diets and food habits out there that claim to boost health and help you lose fat, but from our perspective, only one thing is clear: everyone is different. What works for one person doesn't necessarily work for the next person. In other words, you have to find what works for you. In general, it's a good idea to reduce intake of carb and sugar-heavy foods while eating more fruits and vegetables. If you're a busy person or don't enjoy cooking, subscribing to a healthy meal service is a big help.
Get active: A healthy lifestyle and fat reduction routine at home isn't complete without some form of regular exercise. You don't have to go full-tilt. Rather, focus on doing at least one thing every day to get moving. Perhaps you want to do a few sets of push-ups, squats, or just go up and down the stairs a few times. Or maybe you want to try an online yoga or fitness class. Walking is also a great, gentle form of exercise. Whatever you do, consider inviting a family member to do it with you for extra motivation.
Remember Two Things
After all of this, we have two messages for you. First, great job on getting started with your healthy lifestyle and fat reduction routine at home. Keep the momentum going and you'll start to look and feel better soon.
Second, don't get frustrated if over time you still have pockets of stubborn fat. What a lot of nutrition and fitness junkies don't tell you is that certain pockets of fat just don't go away without some kind of fat reduction treatment. At Advanced Skin and Body Solutions, we've performed CoolSculpting on some of the healthiest people we know, from nutritionists to fitness instructors. They say the same thing, and it's all backed up by science.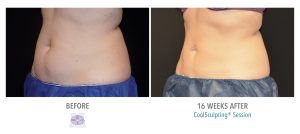 Get a Little Help from Your Friends at Advanced Skin and Body Solutions
If you'd rather skip the frustration of seeing your stubborn fat linger around, we've got you covered. Advanced Skin and Body Solutions has an expert CoolSculpting team. Schedule a free initial CoolSculpting consultation today to see what's involved (we think you'll be pleasantly surprised) and get your questions answers. And if you decide to take the leap, know that we're the only medispa in Bellevue with a Great Service Guarantee: if the service you receive is less than great, we'll do everything in our power to make it right. That's our promise to you.
So call or text Advanced Skin and Body Solutions at (425) 643-5772 to schedule your free CoolSculpting Consultation today. We can't wait to hear from you.