We are so excited to be among the first medispas in the United States to start offering CoolTone, a revolutionary body contouring technology that strengthens and tones muscles in the mid-section, butt, and legs without pain or downtime. Just imagine finally having firmer muscles in those hard-to-get areas – without the needless frustration of more cardio and gym reps, which often don't produce visible results, anyway!
At Advanced Skin and Body Solutions, our mission is to use cutting-edge techniques and the highest level of customer service to help men and women in the Bellevue area look their best, and more importantly, feel their best. CoolTone fits in perfectly with our mission because it's a leading method to safely and effectively strengthen and tone the body – bringing satisfaction, confidence, and motivation to so many people who deserve to feel great about themselves.
But the reason we're writing you today is not to harp on about CoolTone, but to tell you about CoolTone's big sister, CoolSculpting… Both of these technologies were created by the same company and are meant to complement each other. CoolTone is the perfect muscle firming solution for many men and women. For others, CoolSculpting may be the best place to start. (By the way, you can find out how to get started with a free initial CoolTone and CoolSculpting consultation).
You see, CoolSculpting is an extremely popular technology that removes unwanted pockets of fat permanently. Like CoolTone, there is no surgery, pain, or downtime and it targets those hard-to-get areas which often don't respond to diet and exercise. The result is a slimmer physique, no matter the season. Coolsculpting helps to minimize the appearance of stubborn bulges by freezing your fat. Can you believe it?
Fat cells crystalize and die at 4 degrees Celsius. Coolsculpting brings the temperature of your fat as low as -11 degrees Celsius to penetrate several layers of fat cells beneath the skin's surface. Once those fat cells are crystallized, they die and are gone for good. Results vary, but on average 20-25% of fat in the targeted area is removed.
Seriously, men and women in Bellevue are crazy about CoolSculpting. It may sound too good to be true, but we assure you, the results are for real. Here's one before and after photo, and we'd be happy to share others with you during a free initial CoolTone or CoolSculpting consultation…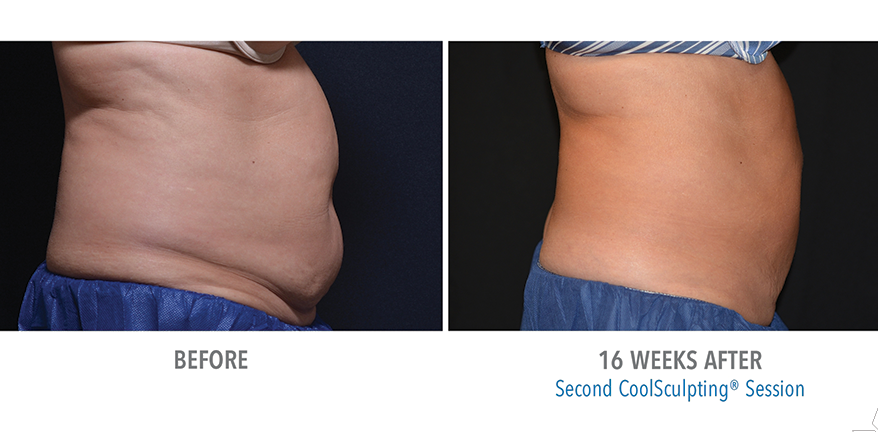 We hear all kinds of excuses about why men and women shouldn't use CoolTone and CoolSculpting. Some people say that considering these amazing technologies makes them feel selfish, while others say they have more important priorities. The truth is, few things are as important as the relationship you have with yourself! How you feel about your body impacts how you think, behave, and even how treat other people. We believe that life is too short to live with negative body thoughts. Everyone deserves to look, and above all else, feel their best.
Whether you're doing CoolTone, CoolSculpting, or both (yes – you can do both for best results and the most efficient use of your time), it's as easy as popping in during a lunch break, an evening, or on the weekend. In just a few weeks, people will start to see your transformation. So what are you waiting for?
Call or text Advanced Skin and Body Solutions at (425) 643-5772 today to schedule your initial CoolSculpting consultation, or book your first appointment.
If you're not sure whether CoolTone, CoolSculpting, or both are right for you, our team will answer all your questions and put together a custom treatment plan to meet your goals and accommodate your budget.
And speaking of our team, our reviews generally speak for themselves (check us out on Google and Yelp). However, here are a few things that make us different from other CoolTone and CoolSculpting providers:
Advanced Skin and Body Solutions is the #1 locally-owned CoolSculpting facility in the state of Washington and a top 10 CoolSculpting provider in the United States. Being a leader in the industry gives our patients confidence and peace of mind.

Our staff represent the best of the best. We have graduates of Coolsculpting University, Masters of Coolsculpting University, Coolsculpting University Masters in Business, and Bodify Academy.
Our Medical Director, Sherisse Hill, ARNP was a pioneer in Coolsculpting and conducted clinical trials. Patients can trust that they're in good hands with us.
We offer complete aesthetic services for skin, body, and hair. Patients love the convenience of visiting for Coolsculpting and getting another service while they're here.
We've performed over 6,000 Coolsculpting treatments. Our experience helps us deliver the most comfortable and effective treatments.
We're the only Coolscultping location with three dedicated, full-time Coolsculpting certified experts. We're open outside of regular hours including evenings and weekends by appointment. We offer a complimentary, personalized lunch, and we offer Netflix during treatment. For all these reasons, our patients say we deliver better service than any other medispa.
Call or text Advanced Skin and Body Solutions at (425) 643-5772 today to schedule your initial CoolSculpting consultation, or book your first appointment.
Want to learn more about CoolSculpting? Here are some "frequently asked questions", along with questions that, as experts in aesthetics, we think you should ask:
Who is an ideal candidate for CoolSculpting?
Generally healthy individuals who are 20-30 pounds or less from their goal weight who are looking to treat areas of stubborn fat. Those above 30 pounds may still receive CoolSculpting, however, more treatments may be needed to achieve a peak result. Those who are closer to 50 pounds overweight would be advised to try diet and exercise first and return to the clinic at a future date for treatment of the more stubborn fat.
Should everyone try diet and exercise first?
Not necessarily. Most people have a couple "problem areas". These problem areas likely contain more fat cells than the adjacent areas and you may NOT need to lose any weight. CoolSculpting is an incredible solution because it targets those areas without having to go through strenuous invasive procedures. When adults gain weight (excluding obesity), the fat cells simply get larger, like balloons. When you lose weight, these fat cells get smaller. Once treated with CoolSculpting, the number of fat cells is permanently reduced. With repeated treatments, the fat bulge is minimized. Once destroyed, the body's natural processes remove the dead fat cells from the targeted areas.
Are there any side effects with CoolSculpting?
Typically, there are no side effects from CoolSculpting, however some people may feel temporary tingling, numbness, tenderness, bruising, or swelling in the treated area. Treated areas may become slightly flushed post treatment for a period of up to one hour. Typical risks are a minor chance of temporary bruising, swelling, and numbness to the treated area. All side effects are transient and will completely resolve with time.
How much does CoolSculpting cost?
The retail cost of CoolSculpting varies based on your individual goals and factors such as the number of applications received. The cost for treatment on multiple body areas averages $2,250, while treating single areas (like the chin) can cost under $1,400. The only way to determine the exact price is to come in for a free consultation, so our certified experts can design a treatment plan that meets your personal goals. You can also ask if we have any hot deals on offer.
Can I start treatment on the same day as my free consultation?
You sure can! The best thing is to call in advance to book your consultation and first appointment. The first appointment will be subject to your approval as a CoolSculpting/CoolTone candidate. If you can't book in advance, ask about same day availability during your consultation. We can't wait to see you!
Call or text Advanced Skin and Body Solutions at (425) 643-5772 today to schedule your initial CoolSculpting consultation, or book your first appointment.