Ready to learn about a groundbreaking facial contouring treatment that leaves you looking years younger without going under the knife?
Yes, that's right, there is a new facial contouring treatment in town and it's called Evoke.
No longer do you need to get a surgical procedure to remove fat or excess skin from your neck, cheeks, or jawline; the Evoke facial contouring treatment does it all with no surgery or downtime!
Now that we've led with the good stuff, you're probably asking yourself the following questions:
How does it work?
How long does an Evoke facial contour last?
Where can I get it?
Well, we have good news! We've got it all laid out here in this article! So keep reading to find out about this innovative facial contouring treatment that erases time and helps boost your confidence!
What Is Evoke Facial Contour?
Evoke is a non-surgical, non-invasive, facial contouring treatment that uses radio frequency and volumetric heating to reach the deeper layers of the skin for a more thorough and effective treatment.
Radio frequency, or RF is an advanced technological therapy that uses low-energy radiation to reach the deeper layers of the skin to stimulate the body's natural collagen and elastin production.
When your body is exposed to the RF it triggers collagen and elastin production which is an essential part of the anti-aging process. We start to lose the ability to provide collagen starting as young as our 20s! So having a treatment that stimulates and reactivates this essential skin protein is incredible.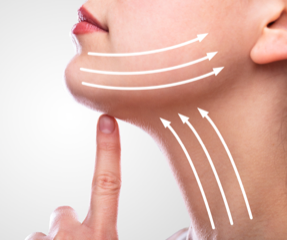 How Does The Evoke Facial Contour Treatment Work?
Another cool thing about this treatment is that it's hands-free! The device is strapped to your face and neck and is considered comfortable, feeling like a hot stone massage. As you relax, the technology and RF therapy work like magic!
It doesn't take long, under an hour to complete the entire treatment actually, and while you are being treated you can work, look at your phone or read! It's a simple, quick and comfortable treatment designed for anyone who's looking to tone, tighten and contour their face and neck!
How Long Does An Evoke Facial Contour Last?
The whole treatment sounds too good to be true right? So if it does all that it says, it can't possibly have long-lasting results, right? Wrong.
If you're still questioning how long does an Evoke facial contour last, you'll be happy to know that once your treatment plan is over you can enjoy the results for YEARS – provided regular maintenance treatments and upkeep!
Your aesthetic professional will discuss your needs, and goals with you and design a treatment plan that will help you get where you want to be!
And as we said, it helps to stimulate and reactivate collagen and elastin production so the treatment will continue to benefit you long after you've walked out of our medispa!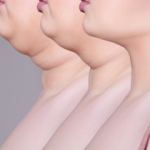 Want To Schedule Your Evoke Facial Contouring Treatment? Connect With Advanced Skin And Body Solutions Today!
If you're ready to tone, tighten and recontour your face and neck, it's time to discuss the Evoke facial contouring treatment and all of the aesthetic and body contouring treatments we provide here at Advanced Skin And Body Solutions!
As the number one medispa in the Bellevue, WA area, we pride ourselves on the high-quality treatments we provide to our clients!
Check out our latest blog which compares Evoke Vs. Morpheus8 for more information on some of the treatments we offer!
Our experienced and dedicated staff is ready to help create the perfect treatment plan to help you reach all your goals and allow you to feel good and glow from the inside out!
Schedule your free consultation today!