We'd like to tell you about our friend Michelle…
Michelle is a busy mom of two. When her kids were young, she spent most of her time working in the home (and going to soccer practices!). Now that her kids are practically adults, she has a little more time for herself and her husband (can we get an Amen?).
With a background in social work, she started her career as a counselor. Six years later, she transitioned into communications and continues to enjoy this line of work. When Michelle and her husband aren't working, they enjoy hosting social events, traveling, and going to the gym…
Michelle has made a lot of progress at the gym lately. She lost 10 pounds in the last year and people say she looks great. She feels good, but she's concerned that her progress has plateaued. It feels harder to stay slim and fit these days.
Michelle heard about a revolutionary treatment that actually works! It tones, firms, and strengthens hard-to-get areas like the abdomen, buttocks, and thighs (she's working on her abdomen). There's no surgery and it's FDA-approved. Is this for real? She wondered whether this could be the perfect way to jump-start her to a new level of fitness (and make her feel great about her upcoming beach vacation!).
She thought about it for a while and finally decided to inquire with the team at Advanced Skin and Body Solutions…
We told Michelle that the treatment she heard about is called CoolTone, and it's just as great as it sounds!
CoolTone is the latest, most effective technology in body contouring, strengthening, and toning. It's practically pain-free and completely non-invasive, so there's no downtime. It's also entirely safe. Patients are seeing incredible results in just a few short weeks, looking visibly fitter.
CoolTone works by process of "magnetic muscle stimulation", or MMS technology. Basically, there's an applicator that emits magnetic energy. This energy penetrates through the skin and fat layers to target only the muscle layer, inducing involuntary muscle contractions. The body's response to these contractions is to strengthen its muscle fibers, resulting in improved muscle tone and conditioning.
After treatment, the abdomen, buttocks, and thighs are firmer and have a more defined and toned appearance. Like all cosmetic procedures, individual results vary, but one thing is clear – CoolTone works and people love it.
Michelle wondered, what's the catch? CoolTone isn't ideal for every single person. And let's be honest – in a world where everyone seems to have a magical solution to every problem, you get what you pay for (although, we offer incredible deals on aesthetic services every month). So the truth is, there is no catch!
After consulting with Michelle, we discovered that she's an excellent candidate for CoolTone. She decided to take the plunge and we're so excited to share her experience!
Michelle loved coming to Advanced Skin and Body Solutions for CoolTone treatments. Conveniently located in Bellevue, we're the #1 locally-owned Coolsculpting facility in the entire state of Washington (CoolSculpting is the "sister treatment" to CoolTone). Being a leader in the industry gives our patients confidence and peace of mind.
We also offer complete aesthetic services for skin, body, and hair. Michelle enjoyed the convenience of visiting for her CoolTone treatments and getting other services while she was with us.
And speaking of convenience, we're the only medispa with three dedicated, full-time CoolTone and CoolSculpting certified specialists. We're open outside of regular business hours (hello, evenings and weekends!), and we offer personalized lunches and Netflix during treatment, totally free. Let's just say that service is important to us, and Michelle appreciated it!
The best part is that Michelle loves her results. Her mid-section is now toned and firm. People are wowed by how she looks, and she feels like a rock star – at the gym, on the beach, on date nights, and everywhere in between. After giving so much to her family, work, and community, she deserves this.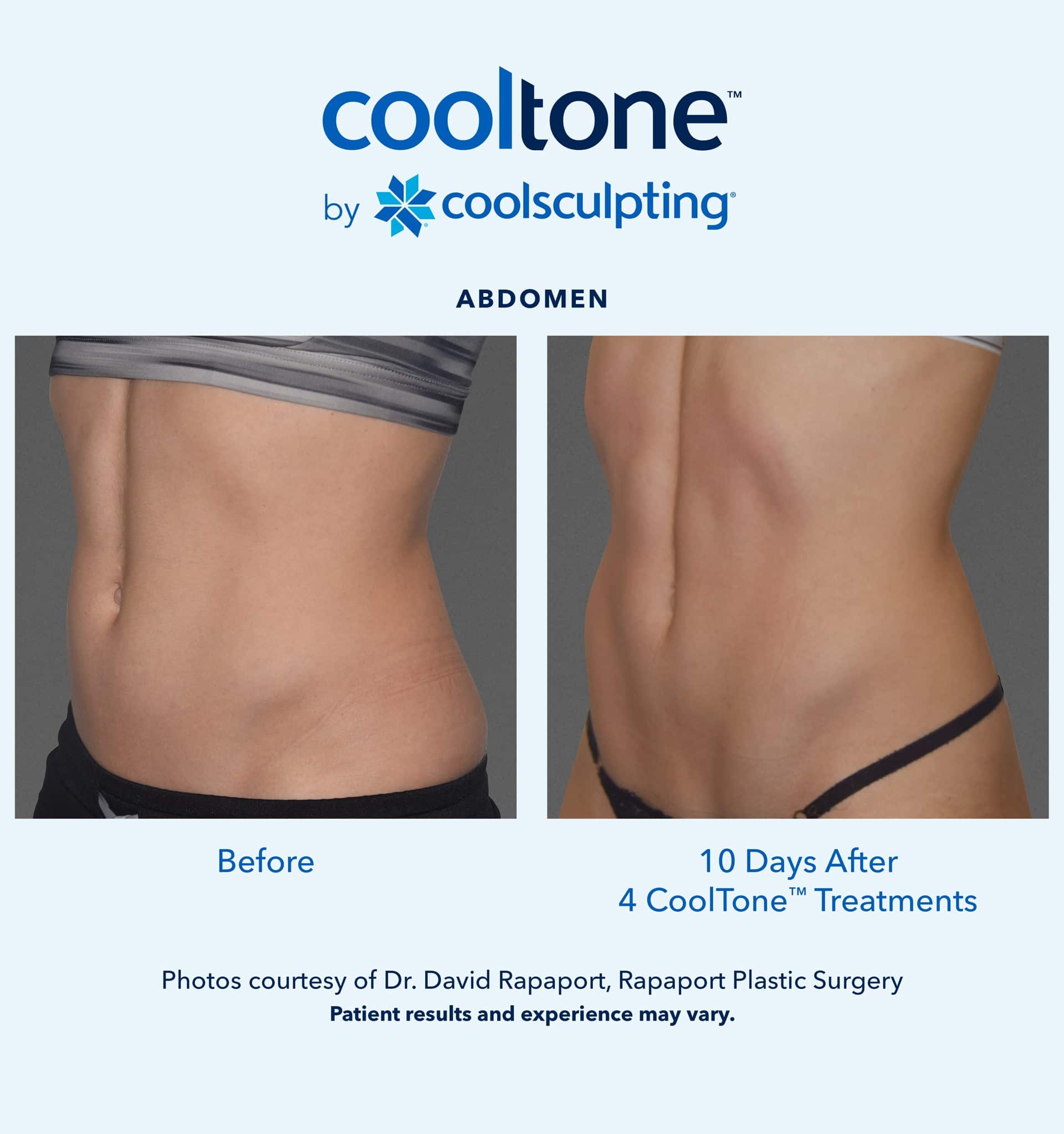 If Michelle's story resonates with you, contact Advanced Skin and Body Solutions to schedule your complimentary initial CoolTone consultation. We'll determine whether you're a candidate, and if so, create a customized treatment plan tailored to your goals and budget.
Or if you've done that already, contact us to schedule your first CoolTone treatment. Why wait when you can start looking, and more importantly, feeling better? Results and confidence await!
Call or text Advanced Skin and Body Solutions at (425) 643-5772 today.
Want to learn more about CoolTone? Here are a few frequently asked questions and answers…
How much does CoolTone cost?
The price of CoolTone varies depending on your areas of concern (abdomen, buttocks, and/or thighs), the number of sessions needed, and your ultimate goals. At Advanced Skin and Body Solutions, our CoolTone experts will design a plan tailored to your body, goals, and budget. We are happy to offer financing options at 0% interest.
How do I know if I'm a candidate for CoolTone?
If you're a generally healthy individual who is looking to firm, tone, and strengthen existing muscle on your abdomen, buttocks, and/or thighs, you're probably a great candidate for CoolTone. We'll assess your candidacy during the complimentary initial consultation, so schedule yours today.
Who shouldn't get CoolTone?
CoolTone is NOT recommended for those with fevers, malignant tumors, hemorrhagic conditions, epilepsy, recent surgical procedures, pulmonary insufficiency, pregnancy, and sensitivity or allergy to latex. We cover this during consultations, so contact us if you have further questions.
What is CoolSculpting and how is it different from CoolTone?
FDA-Cleared since 2010, CoolSculpting is a proven way to remove excess fat, and has been established as the top non-surgical fat removal procedure. CoolTone complements the results of CoolSculpting. If Michelle hadn't lost that 10 pounds in the last year, she may have opted to do CoolSculpting first to lose fat, followed by CoolTone to firm and strengthen her abdomen. Advanced Skin and Body Solutions can design the perfect treatment plan for fat removal, muscle building, or a combination of the two for ultimate results.
Call or text Advanced Skin and Body Solutions at (425) 643-5772 to book your consultation or appointment.