Everyone has different reasons for wanting to work out at home. Some people are motivated by health while others want to lose weight. Some want to increase their fitness, which includes toning muscle. Home-based work-outs are a great way to get active for any combination of reasons. They also help you stay engaged (and sane!) when you're working from home or self-isolating.
We've discovered that the best ways to work out at home come in three approaches. There's a low-maintenance, mid-maintenance, and high-maintenance approach. Below we explain each approach so that you can find what works best for you.
Low-Maintenance Work-Out At Home
If you're just starting out with a home work-out or fitness routine, this may be the right approach. Home-based work-outs don't have to be complicated. All you have to do is a learn a few exercises that don't require special equipment or space.
Squats and push-ups are two examples. They're simple exercises that almost anyone can safely try at home. If you can't do a full push-up, a yoga-style push-up where you lower all the way to the ground then push yourself up works just great. A few of these exercises will increase your heart rate and body temperature.
A third exercise involves using the stairs in your home. No need for a fancy stepping machine here. Just go up and down the stairs a few times to increase your activity level. Complete your home-based work-out with a few stretches like folding forward to try and touch your toes. This low-maintenance approach can improve your vitality in no time.
Mid-Maintenance Work-Out At Home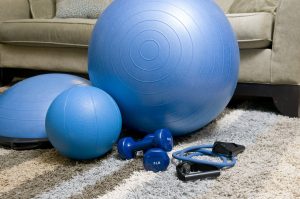 A mid-maintenance work-out may require a little more commitment to equipment and technology. It's an equally great way to work out at home.
Mid-maintenance work-outs involve taking online classes and having the appropriate gear. For example, an online yoga class probably requires you to have a yoga mat and maybe even a block and strap. There are lots of gyms these days that offer online classes, too. You may find that you need free weights or other small pieces of equipment to participate.
There are plenty of online classes available for free, but you may have to invest in a subscription for better quality and advertising-free content.
High-Maintenance Work-Out At Home
High-maintenance work-outs are best suited to those who are already in a routine of working out in a particular way. These people appreciate the convenience of home-based exercise regimes and are comfortable investing in at-home work-out machines, systems, and courses.
If you're ready for this approach, you'll want to have a dedicated work-out space in your home such as the garage or spare room. You can keep all your equipment here like hand weights, dumbbells, kettlebells, mats, props, treadmills, ellipticals, and more. You can even install a system, like the popular TRX System, and set up a screen for streaming your favourite fitness classes.
As you can understand, this approach is fairly involved. You don't want to do all the work of setting up a dedicated at-home work-out space without committing to a routine. A space like this comes with an intention to use it weekly if not daily.
Lose Weight And Tone Up?
If you're exploring the best ways to work out at home because you want to tone up and lose weight, you're not alone. Many people are in the same boat. Working out at home is a great step, but it should be accompanied by good nutrition. There are so many trendy diets out there and only one thing is clear: every person is different. What works for one person may not work for others. That being said, nutrition experts agree that getting lots of vegetables and watching your carb and sugar intake is a good approach.
Warning! Work Out At Home Results Vary
Sometimes when people start a new health or fitness routine, they expect their bodies to transform completely over time. The truth is, every body is different and some people don't get results they expect.
Some pockets of fat just don't go away – no matter how much you work out at home or manage your diet. And some bodies just don't show muscle tone the way others do.
We know hundreds of people in Bellevue and beyond who have had this experience. And it's not just an opinion – it's proven by science. That's why we love CoolSculpting and CoolTone. These revolutionary technologies can help jump-start your fat reduction and muscle toning results.
What's CoolSculpting?
CoolSculpting is an extremely popular technology that removes unwanted pockets of fat permanently. There's no surgery, pain, or downtime and it targets those hard-to-get areas which often don't respond to diet and exercise. The result is a slimmer physique.
Coolsculpting helps to minimize the appearance of stubborn bulges by freezing your fat. Fat cells crystalize and die at 4 degrees Celsius. Coolsculpting brings the temperature of your fat as low as -11 degrees Celsius to penetrate several layers of fat cells beneath the skin's surface. Once those fat cells are crystallized, they die and are gone for good. On average, CoolSculpting removes 20-25% of fat in the targeted area.
It may sound too good to be true, but we assure you that the results are for real. Take it from this fitness instructor patient who agrees that even the best ways to work out at home don't always deliver the results you want…
What One Fitness Instructor Turned Patient Says:
"I had cool sculpting done 8 weeks a go.   I am a fitness instructor who work out at least 6 to 8 hours a week.  My goal have been since 2008 was to get nice abs.  But even with working everyday and eating healthy I still had layer of fat over my muscles.  After having 3 kids and being 47 it just did not go away.  Plus I don't want to loose weight everywhere just my abs. And it's a MIRACLE and this cool sculpting worked like magic within 6 weeks!  Woo hoo! The process was easy and painless and no downtime. I sat playing on my phone while I got it done in the morning and worked rest of the day.   Ran 4 miles that night and taught high cardio kickboxing next morning without an issue!  And even though it's been only 8 weeks my pants are falling off and my muscles are showing! (It's supposed to take 4 months to work). I know I tell people at the gym you can't spot reduce but with coolsculpting you can!  Jennifer is friendly and does an amazing job.  Love love love RESULTS!" –Lori M.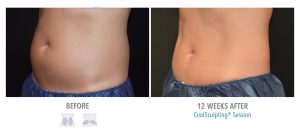 What's CoolTone?
CoolTone is the latest, most effective technology in body contouring, strengthening, and toning. It's practically pain-free and completely non-invasive so there's no downtime. It's also entirely safe. Patients are seeing incredible results in just a few short weeks, looking visibly fitter.
CoolTone works by process of "magnetic muscle stimulation", or MMS technology. Basically, there's an applicator that emits magnetic energy. This energy penetrates through the skin and fat layers to target only the muscle layer, inducing involuntary muscle contractions. The body's response to these contractions is to strengthen its muscle fibers, resulting in improved muscle tone and conditioning.
After treatment, the abdomen, buttocks, and thighs are firmer and have a more defined and toned appearance. Like all cosmetic procedures, individual results vary, but one thing is clear – CoolTone works and people love it.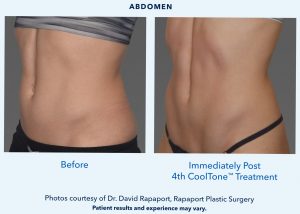 What's The Catch?
CoolSculpting and CoolTone aren't ideal for everyone. For example, CoolSculpting patients should be within about 30 pounds of their ideal weight. Otherwise, it's harder to "see" the results.
Furthermore, in a world where everyone seems to have a magical solution to every problem, you get what you pay for. We consider technologies like CoolSculpting and CoolTone to be investments in yourself. Feeling good about how you look renews self-confidence and even impacts the way you treat other people. At Advanced Skin and Body Solutions, we offer killer monthly deals, so the investment is usually more accessible than people realize.
Contact Us For A Free Initial Consultation
Advanced Skin and Body Solutions in Bellevue is the #1 locally-owned CoolSculpting facility in the state of Washington and the 6th most popular provider of CoolSculpting in the United States. We offer free initial consultations for services including CoolSculpting and CoolTone. This is the best way to determine whether you're a candidate, how much your treatments will cost, and the kind of results to expect.
Our mission is to help men and women in the Bellevue area look their best, and more importantly, feel their best. Why not contact us to see what we can do for you. Call or text Advanced Skin and Body Solutions at (425) 643-5772 today to schedule your initial consultation.
Delivering a consistently great experience is important to us because it's part of our culture and a pillar of our success. That's why we offer a "Great Service Guarantee". If the service you receive is less than great, we'll do everything in our power to make it right. That's our promise to you. Call or text Advanced Skin and Body Solutions at (425) 643-5772 today to schedule your initial consultation.